Last Updated on
We all like having our hands free, both literally and figuratively. Holding a gun is an activity of which a true firearm enthusiast never gets tired. Ideally. But the reality is different: guns can be heavy, our arms get tired, and we often need to do something with our hands while holding a gun. Not cool. But there is a solution to this pickle – gun slings. If you have ever thought about keeping your firearm close without having to constantly hold it, you won't find a better helper than a gun sling. It can do this and a bunch of other things. Today we're going to take a look at five such beauties that will readily help you not to let go of your rifle without actually needing to hold it.

Table of Contents
Top 5 Best Selling Gun Slings of 2023
         Allen Denali
         Butler Creek Featherlight
         Allen Boulder
         Magpul Industries RLS
         BLACKHAWK! Storm
Key Features to Consider 
Wrapping Things Up
FAQs
Top 5 Best Selling Gun Slings of 2023
Alright, let's get down to business. We've compiled a list of the five best-selling gun slings of 2023. As you can guess, a lot of slings were sold across the US and we don't have access to the information on sale of every single one of them. We can only make an educated guess based on our sales and user reviews left throughout the year on various platforms. This is what our list of 5 best-selling gun slings looks like. 
Allen Denali Black Neoprene Rifle Cartridge Sling
The Allen Denali Neoprene Rifle Cartridge Sling is touted for its simple yet sturdy construction and functional design. With as many as five cartridge loops, the sling enables you to conveniently carry extra ammunition without having to think where to put it. Though its black variant is the focus of this review, camouflage versions are also available.
Advantages
🟢Comfort and Durability
Right off the bat, the Denali's neoprene makes sure your carrying experience remains comfortable while also reducing shoulder strain during long hunting trips or hours at the range. This material is also known for its durability, so rest assured you will be getting a sling for years. The slip-proof "Sharkskin" back makes it virtually impossible for the sling to slip off save for some extraordinary circumstances.
🟢Cartridge Loops
It's nice when a sling also happens to be something else. Two for one, that kind of thing. The sling features five cartridge loops meant for, unsurprisingly, storing your ammunition. Even though the manufacturer didn't bother to specify the dimensions of cartridges suitable for storing, we did the exploring part for you. These loops comfortably accommodate 30-06 or 8×57 ammunition. Magnum calibers will likely fit even tighter, so you won't have to worry about retention. This could suggest that the loops are designed with magnum calibers in mind, but there is no supporting or refuting this guess for sure.
Disadvantages
🔴Inconsistent Cartridge Retention
While the loops work well with certain types of ammo, they fall short with others. They do not properly retain smaller cartridges such as the .223 caliber ammo. Similarly, even .30-30 cartridges may not stay in while carried. While it's foolish to accuse loops meant for bigger cartridges of not retaining smaller ones well enough, the recommended cartridge dimensions aren't stated anywhere in the product description. So there is no way to learn this until you buy it and see it for yourself. Or read a review, like this one. 
🔴Variability in Loop Sizes
Another issue noted by users is the inconsistency in the cartridge loop sizes. While some gun slings hold .243 and .30-30 cartridges snugly, others fail to retain .270 and .350 Legend cartridges. Though reports of varying loop sizes aren't that numerous, they are still present and that's worth keeping in mind. 
All in all, the Allen Denali Black Neoprene Rifle Cartridge Sling seems to be a solid choice for those who use larger caliber ammo and prioritize comfort and durability. It would have been even better if the manufacturer paid more attention to the loops, but, you know, a sling is supposed to retain your gun and it does it perfectly. The rest of the features are complementary, but if they are advertised, they might as well work equally well not to spoil the general impression.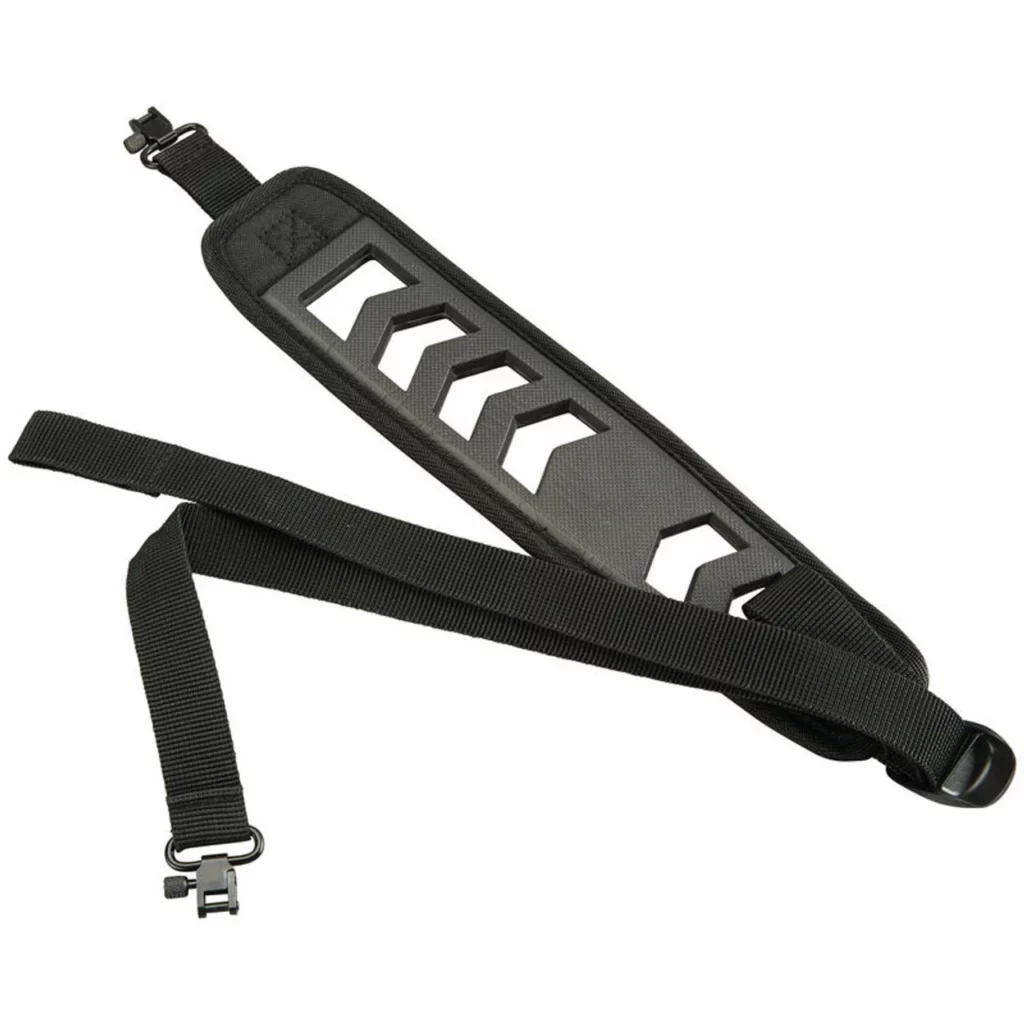 Butler Creek Featherlight Rifle Black Sling with Swivels
Butler Creek found the best name possible for this sling, as nothing describes it as vividly as the word "Featherlight". Its design is based on another sling, the Comfort Stretch, that was pretty lightweight by itself. But is being extremely lightweight everything a sling needs? Let's take a closer look.
Advantages
🟢Comfort and Ventilation
The Featherlight sling boasts a wide, comfortable pad with air holes for ventilation. This helps reduce shoulder strain and keeps you cool, so you don't have to worry about chafing. This focus on user comfort sets the Featherlight apart from many other gun slings on the market.
🟢Lightweight Rugged Construction
Butler Creek Comfort Stretch was considered to be a pretty lightweight sling, but that changed when Featherweight was released. Being 45% lighter than its predecessor, Butler Creek Featherlight could very well win the title of the lightest sling ever (if such titles were given). But it's not just about being almost intangible, though. The lightweight construction should make the sling somewhat frail, but it doesn't. The Featherlight impresses with its rugged construction which wasn't really something we expected such a sling to boast. 
🟢One-Handed Adjustment
Another notable feature is the possibility of one-handed adjustment. Since we buy gun slings to keep our hands free, further increasing the utility they provide is an excellent design decision. One-handed adjustment can be particularly useful when adopting a shooting position or carrying your rifle over the shoulder.
Disadvantages
🔴Stability Issues
Despite its many advantages, the Featherlight sling isn't without its flaws. The lightweight foam pad doesn't grip as well as some of the rubber-backed pads on other slings (Allen Denali enters the chat). This can lead to the rifle slipping off if you carry it over your shoulder, which is not something you'd want your sling to do.
🔴Cartridge Retention
Another downside is the cartridge loops' performance. While they do work well with magnum cartridges, they don't seem to work too well with anything smaller, including .308 rounds. The cartridges weren't sitting securely in the loops, which limits the calibers you can carry pretty significantly. On the bright side, there are only two loops, so it's not like you're losing much in this regard.
In conclusion, the Butler Creek Featherlight Rifle Black Sling with Swivels is a commendable choice for those seeking a lightweight, comfortable sling. Its wide pad, ventilation, and one-handed adjustment feature all contribute to its appeal. Its cartridge retention properties could be better, but the small capacity makes it more of an optional feature rather than one of the mainstays of the sling. Oh, and it also comes with swivels, so you don't have to worry about getting those separately.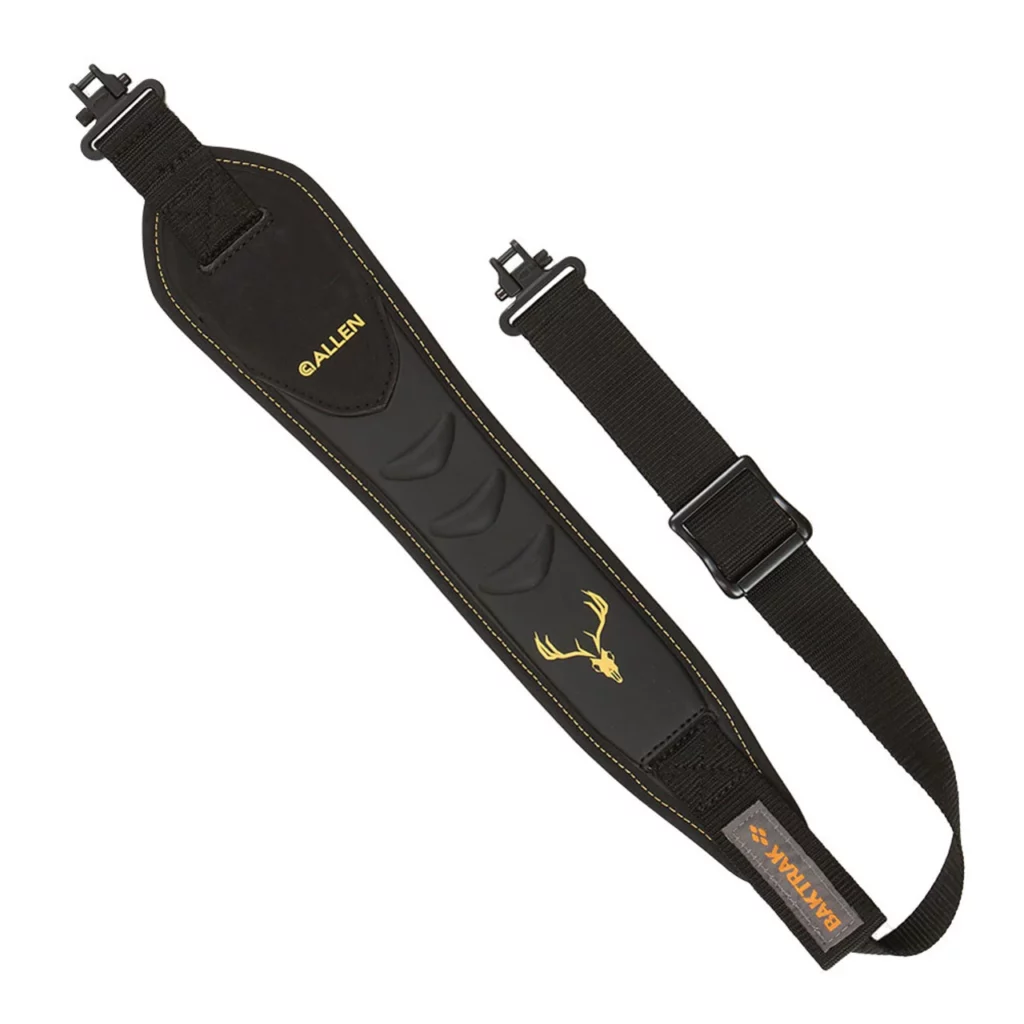 Allen Boulder Black/Yellow Rifle Sling with Backtrak
Another creation of Allen Company, the Boulder Black/Yellow Rifle Sling too has a bouquet of features any rifle owner will find useful. It feels as if the sling was designed not only to mount the gun but enhance the shooting experience in general. Let's take a closer look at the sling, shall we?
Advantages
🟢Weight Distribution
One of the key advantages of the Boulder Black/Yellow Rifle Sling is its ability to evenly distribute the weight of the rifle across the shoulder. This significantly reduces the strain and fatigue that so often trouble shooters during long hunts or shooting sessions.
🟢Quality Components
The sling is made of high-quality components, and it shows. The moment you take the sling into your hands, you understand it won't give in to time and wear so easily. Materials also determine the level of the sling's performance. The tacky back featuring rubber gripping dots looks most impressive, for one thing. It also ensures that only the force most severe can make the sling slip off your shoulder. 
🟢Suitable for Various Rifles
Another advantage is its suitability for different types of rifles, including youth rifles and some sporting more compact designs. This versatility makes it a valuable accessory you can use with multiple rifles in your collection.
🟢One-Handed Adjustment and Thumb Loop
The sling enables quick adjusting with one hand: a feature we've already seen in other gun slings but that remains extremely helpful nonetheless. There is also a thumb loop present, and if such attention to your fingers doesn't win Allen Company your grace, I don't know what will.
🟢Reliable Swivels
The swivels, courteously included by the manufacturer, have been tested to hold up to an impressive 300 pounds, guaranteeing maximum strength and reliability.
Disadvantages
🔴Insufficient Web Material
Though its advantages are plentiful, the Boulder Black/Yellow Rifle Sling isn't without its flaws. One, to be more precise. People who have already bought the sling reported that the webbing material coverage might be insufficient to accommodate wider sling studs. This somewhat limits its adaptability and compatibility with certain firearms.
Despite its minor drawback, the Allen Boulder Rifle Sling is one of the best slings money can buy. It's super affordable, especially considering how many handy features it boasts. The retention capabilities are exemplary, the materials are sturdy, and, what's equally important, it looks sleek.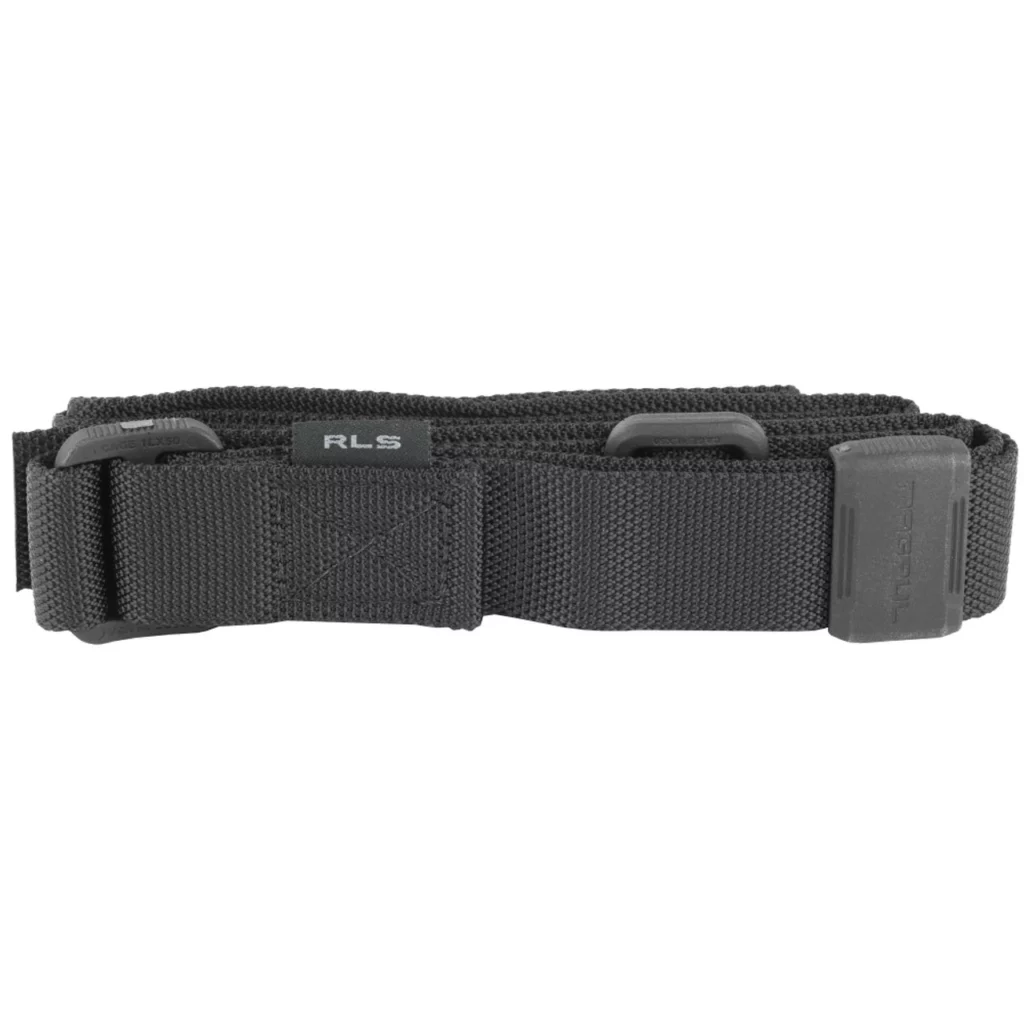 Magpul Industries RLS Sling
Moving away from some of the fancier models, the Magpul Industries RLS Sling proves that simplicity offers the shortest path to excellence. Merging functionality with comfort, the sling offers a simple yet reliable solution for anyone looking for a gun sling. It combines the best features of Rhodesian and 1907 match-style gun slings, both known for standard-setting performance. 
Advantages
🟢Lightweight and Simple Design
If you find the design of the previous sling unnecessarily complicated, this one will most likely float your boat. The sling is literally just fabric, but not some mediocre one. It's chafe-resistant 1 1/4-inch nylon mesh webbing that is as reliable as it is comfortable. The sling lacks any harsh edges that could potentially pose problems and instead features a double-layer design for increased comfort. Even when torqued against the user's arm, the sling doesn't cut into it. If you are looking for an unobtrusive weapon sling, this might very well be one of the best choices.
🟢Loop for Supported Shooting
One standout feature is the forward loop for supported shooting. The upper loop, adjustable via one of the two injection-molded polymer buckles, can be used for a supported position, providing additional stability during shooting.
Disadvantages
🔴Lack of Sling Swivels
While this sling comes with many advantages, it doesn't come with any sling swivels. While this means you'll most likely need to make an additional purchase, that hardly brings down the value that Magpul RLS Sling boasts. For a bit more than $20, you get an excellent simple-looking but high-performing rifle sling. Adding a swivel into the package would be hands down a true steal.
As you've probably already understood, the Magpul Industries RLS Sling ranks among our favorites. It's high-quality, it's highly functional, it's cheap, and it's superbly comfortable. It doesn't sport any cartridge loops but none of the above-mentioned options could really brag about having those either. This sling doesn't pretend to be anything but a sling, and such honesty is commendable.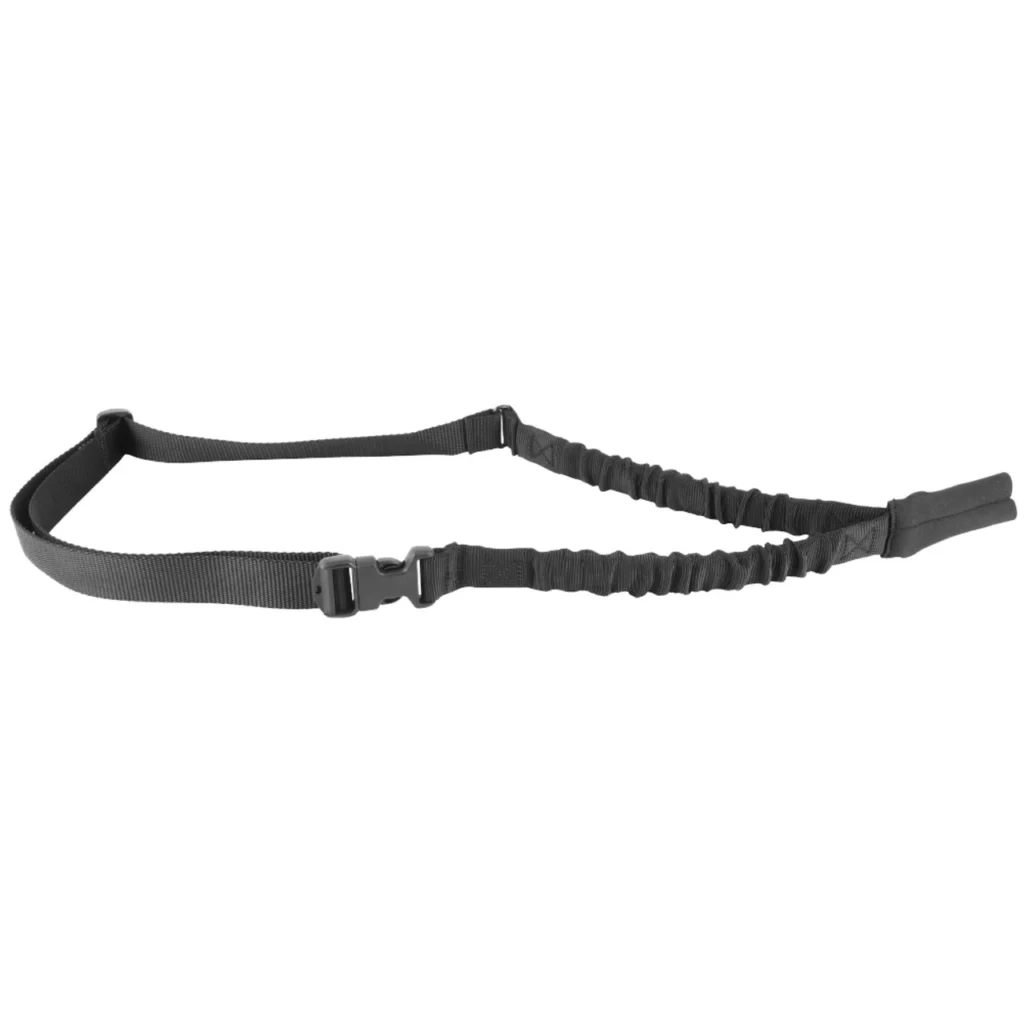 BLACKHAWK! Storm Single-Point Sling
Concluding our list is the BLACKHAWK! Storm Single-Point Sling, another simple-looking accessory that knows a thing or two about good performance. Designed to meet the needs of dynamic shooting scenarios, this sling promises to bring that type of shooting experience to a new level. 
Advantages
🟢Durable Webbing
The 1.25-inch nylon webbing strap can handle both frequent use and harsh conditions equally well. Don't let its visible thinness deceive you – the sling is durable and wear-resistant.
🟢Elliptical Bungee with Tubular Nylon Sheathing
The elliptical bungee, covered in a tubular nylon webbing sleeve, helps prevent excessive bouncing and protects the elastic. It offers about 4 inches of stretch, providing room for movement without being excessively loose. It's a real asset for active shooting scenarios and no other sling on the list can offer the same.
🟢Adjustable Length
With almost 20 inches of length adjustment, the Storm Sling can accommodate a wide range of body sizes and shooting styles. This feature adds to its versatility and adaptability, making it a valuable accessory for different types of shooters.
Disadvantages
🔴Not Quickly Removable from the Rifle
Despite its many advantages, the Storm Sling does have some drawbacks. One is that it's not as easy to detach the rifle from the main portion of the sling. It's a single point, so its only place of attachment needs to be particularly secure.
🔴Less Secure than Two-Point Slings
Another downside is that the rifle isn't held as securely to the body when slung compared to two-point gun slings. It may dangle when slung, which is less than ideal for the majority of shooters. But that's the trade off with single point slings, they still perform better in tactical-like situations.
With everything said, the BLACKHAWK! Storm Single-Point Sling is still a commendable choice, especially for those seeking a sling for active shooting scenarios. It adjusts to you as you move, even if dangling in the process, but still offers the level of active retention comfort other slings don't.

Key Features to Consider When Buying a Gun Sling
So, we've given​ you a bunch​ of great slings​ to choose from, but ​how do you know which one is right for you? We ​wouldn't mind​ you buying all of​ them to try out firsthand, but ​it's not really what we want our customers to do. ​We want you to​ find the right one. The ​right sling will not only cover your ​needs but also bring your​ performance to a ​new level. The wrong one, ​conversely, will hinder it. Here ​are some of the key ​features to consider when ​choosing a gun sling:
Type of Sling
There are three​ main types of ​gun slings: single-point, ​two-point, and​ three-point slings.
Single-point slings

attach to ​the gun at a ​single point, usually near the​ rear of the gun. They allow for​ quick transitions between​ hands and are commonly ​used in close-quarter combat ​situations. The BLACKHAWK! ​Storm is a single-point​ sling.

Two-point slings

​attach at both the​ front and back ​of the gun. They offer ​greater stability and​ are ideal for long-distance ​treks or when ​the shooter​ needs their hands​ free. Most of the ​slings on the list, ​except for the ​last one, are​ two-points.

Three-point slings

wrap ​around the body ​and attach to ​both the front ​and rear of ​the gun, with an ​extra loop that ​goes over the​ shoulder and ​under the opposite ​arm. They offer the​ most stability ​but can be ​complex to ​use.
Material
The material​ of the sling is crucial to​ its durability​ and comfort. Common​ materials ​include leather, nylon,​ and canvas. Leather is ​durable and comfortable but can​ be heavy and ​expensive and can bring ​about some chafing​ problems. Nylon is​ lightweight, ​weather-resistant, ​and affordable but may​ not be as comfortable. Canvas is​ also durable and ​comfortable but ​can be heavy and​ not as weather resistant as ​nylon.
Width and Length
The width and ​length of the sling can​ affect its comfort ​and functionality. Wider​ slings​ can distribute weight​ better, reducing strain ​on your shoulder. However, ​they may be bulkier​ and heavier. The ​length should be adjustable to ​accommodate different body ​sizes and ​shooting positions.
Attachment Method
Consider how the​ sling attaches to your​ gun. Some slings​ come with swivels​ that can easily ​clip onto your gun, ​while others may ​require you to tie ​them to the gun. Ensure​ the attachment method is ​secure and compatible ​with your firearm.
Adjustability
A good sling should​ be easily adjustable to​ accommodate different shooting​ positions and personal ​comfort. Quick-adjust features​ can be particularly useful in​ dynamic shooting situations.
Comfort
Comfort is a key ​consideration, especially for​ long hunting trips or​ shooting sessions. Look​ for slings with ​padding or those made​ from soft materials. Also, ​consider the weight ​of the sling itself, as ​heavier slings​ can add to ​the overall weight of your ​firearm.
Wrapping Things Up
And there you have it, folks! ​That's our round-up​ of the top-selling​ gun slings of 2023. Remember, ​a good sling is ​an investment. It not ​only makes your ​shooting experience more​ enjoyable but ​also contributes to​ your performance and​ safety. So, choose​ wisely. But also remember that you are not married to your decision. Trying out a couple of slings before settling for one is absolutely normal.
Check out our other "Best…" articles:
FAQs
How do I choose the right type of gun sling? 
The choice ​depends on your specific​ needs and the ​type of shooting ​you'll be doing. ​Single-point slings are great​ for tactical situations ​where mobility is key. ​Two-point slings are ​versatile and perfect for ​general-purpose use. Three-point slings, while​ complex, offer excellent​ weapon security.
What should I consider when buying a gun sling? 
Consider the ​material for durability and​ comfort, the width and length for​ fit and adjustability, ​the attachment ​method for compatibility with ​your firearm, and ​the​ design for ease of use​ and functionality.
Can I use the same gun sling for different types of firearms? 
While some ​gun slings offer versatility, not​ all will be suitable for​ every type of ​firearm. It's important to check​ the gun sling's specifications and ​compatibility with ​your firearm before ​purchasing.
Source link: https://blog.gritrsports.com/best-selling-gun-slings-2023/ by Timothy Chandler at blog.gritrsports.com