Last Updated on
American firearm history abounds in surnames of people who left a mark big enough to be remembered for centuries. Browning is one such surname, one of the most celebrated ones in the firearm owners' community. Many a renowned firearm blueprint was drawn by his hand, the Colt M1911 and M1895 Machine Gun being only some examples. Though not the creation of John Browning himself, the Browning Buck Mark series carries on the legacy of the famed gunsmith. This pistols series now carries the title of the brand's signature firearm and for a good reason. In this article, we'll take a look at one fine representative of the family: Browning Buck Mark Practical to see to what the series owes its reputation. 
Table of Contents
History of the Buck Mark
Specifications 
Design and Aesthetics
Performance Review
Pros and Cons
FAQs
History of the Buck Mark
Though the pistol itself wasn't introduced until 1985, its origins go a bit further than that, right into the 60s. Driven by competition with such stalwart brands as Ruger and Colt, the company built hefty, steel-framed pistols. The renowned Challenger and Medalist pistols are the most well-known representatives of that group. But the competition at the time wasn't an easy one either: Ruger's Mark series, Colt's Huntsman and then Woodsman, Smith & Wesson Model 41 – all these heavyweights fought for customers' attention. 
The repeating rimfire handguns were thriving through the 1970s, but most of the designs – and the marketing to match – were slowly running their course by the early 1980s. That's when Browning, fresh off the move from Belgium to Utah, took to the drawing board with a mission: they needed a thorough redesign of the Challenger pistol. By 1985, the gears shifted, and Browning's Buck Mark was born. 
Whereas many aspects of the Browning Buck Mark were a novelty, some elements were inherited from the older models. For example, this pistol uses the same action mechanism as its predecessors, for Browning's design ingenuity was hard to beat even by Browning themselves.
Improvements over previous iterations were bound to make Buck Mark stand out. While steel was the primary material for all the predecessors of Buck Mark, the new pistol transitioned to a frame and slide crafted from aircraft-grade aluminum alloy. The triggers, once quite chunky, were mended. The Buck Mark entered the market with its head held high and never quite left. The talk has it that the brand's logo, an antlered deer, was inspired by this very model.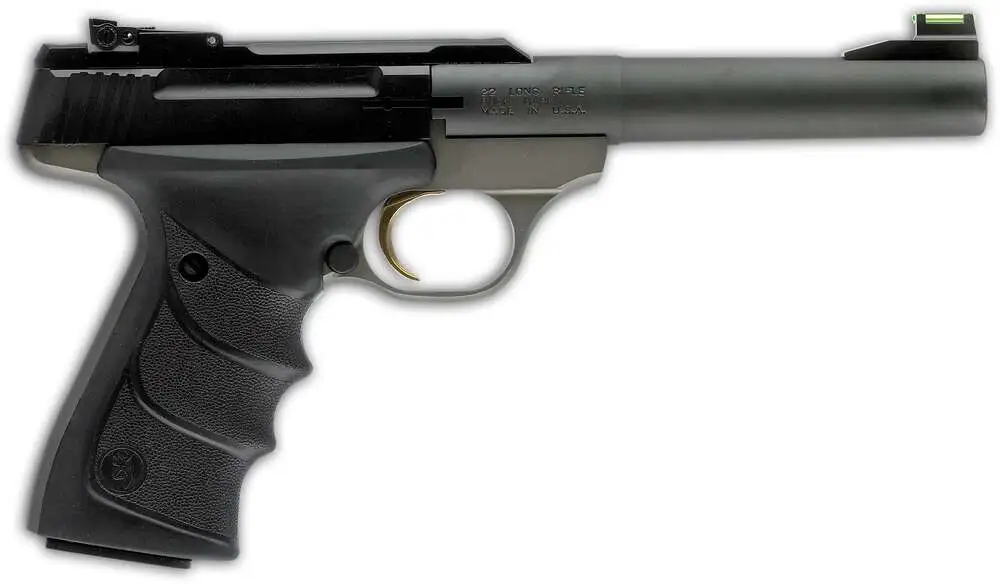 Specifications of Browning Buck Mark Practical
The Browning Buck Mark series of .22 LR pistols is a most extensive one. It comes as no surprise, for the series proudly occupies the place of the brand's flagship firearm. There are more than 40 models available, all bearing some minor or major difference from one another. Here are the detailed specifications of the Browning Buck Mark Practical:
Overall Dimensions: The overall length of the Buck Mark Practical is approximately 9.5 inches. The gun weighs around 35 ounces, which makes it a relatively lightweight handgun.
Caliber: Browning remains true to their principles, so even the new iterations of Buck Mark are chambered in the original caliber: .22LR.
Magazine Capacity: The magazine of the Buck Mark Practical can hold up to 10 rounds with an additional round in the chamber, giving it a total capacity of 10+1 rounds.
Barrel Length and Material: The barrel length of the Buck Mark Practical is 5.5 inches. The steel barrel sports a matte blue finish. 
Sight System: The Buck Mark Practical uses white outline Pro-Target 16-click adjustable rear sights and a Truglo/Marble Arms fiber-optic front sight. A pretty decent duo, to be honest.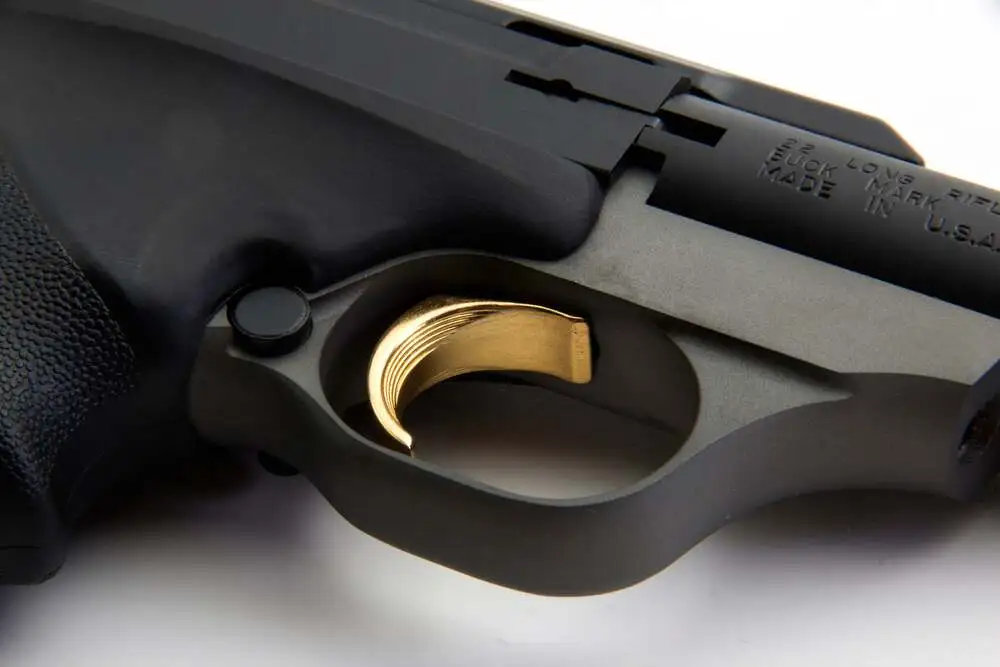 Design and Aesthetics
The design of the Buck Mark Practical is reminiscent of the original Buck Mark pistol introduced in 1985 but with a few twists. 
Let's start with the barrel. It doesn't just attach to the frame; it's virtually fused with it, standing as one entity during every shot. The slide, once bulky, has now been refined to a more minimalist design. The action is now striker-fired with a standard blowback mechanism – the hallmark of contemporary firearm technology. But the most innovative modification is in the ejection port. Instead of opening on one side, it now opens on both. Think less carbon fouling, smoother operation, and more time shooting rather than cleaning.
Now to Buck Mark's features. The frame is made of a 7075-aluminum alloy and is as strong as it is lightweight. The steel barrel is tensioned at both the front and rear, bringing improved accuracy and making each shot a potential bullseye.
The controls are pretty standard for any other Buck Mark model. The left side boasts a magazine release button, a thumb safety and a slide stop. The latter two stick out from the pistol's sleek profile, which is hardly an advantage for concealed carry but is a welcome feature for target shooters.
The grip is the brand's signature Ultragrip RX (URX) made of soft nitrile rubber. With finger grooves carved into it, the grip offers plenty of space even for people with more-than-average-sized hands. The angle is also particularly comfortable, but that's a common feature for the Browning handguns.
All 41 models of Buck Marker do have noticeable features in common, and Buck Mark Practical is no exception. The golden crescent-shaped trigger has indeed become one of the hallmarks of the series. It is one of the lightest and crispiest .22 LR triggers on the market.
When it comes to aesthetics, the Buck Mark Practical is one of the most presentable models. Its all black-and-grey design might seem plain to some, but others will see the reticent elegance of the pistol's demeanor. It's not encumbered with excessive patterning or intricately cut sleeve design. The family has fancier, louder models, but this one lives up to its name, staying practical while still looking magnificent. It also has a more good-looking sibling, Buck Mark Plus Practical, that features and even blacker exterior and a Picatinny rail for mounting accessories.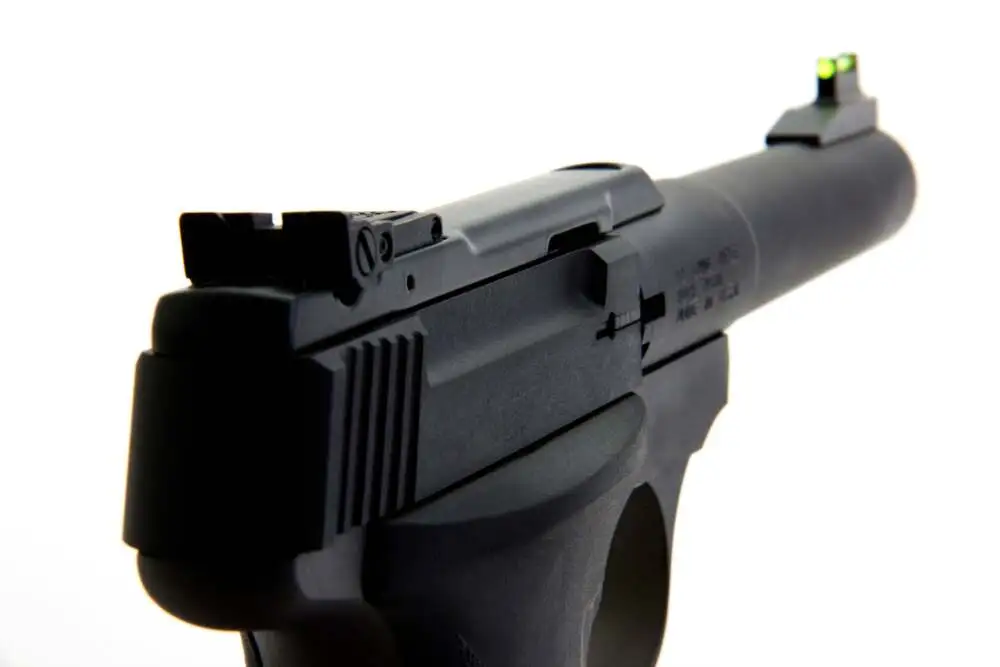 Performance Review
I don't personally own a Buck Mark Practical (that will probably change soon, but I want to give other Buck Marks a try), so we only had one shooting session together. What can I say, I found a new favorite rimfire pistol. Not in one aspect has it disappointed me and there is really nothing else I can ask of a gun. 
We all know that a gun is only as accurate as its shooter. It can't make you a marksman: it can either let you channel your accuracy or stand in the way of it. During my testing, I was consistently hitting around an inch at 25 yards. I'm pretty content with that result, given the fact that I've tried several types of rounds with different loads. Not a single failure and that's what I expect a gun to provide. 
About recoil management. There isn't too much innate recoil to .22 LR, so it may seem like manufacturers don't need to try too hard to reduce it. Browning doesn't share that outlook. The Buck Mark's direct-blowback action harnesses the .22 LR's already mild recoil to deliver something you won't want to let out of your hands. 
The trigger response and reset are nothing short of spectacular. The Buck Mark's trigger is smooth and crisp and has a light average pull weight of a mere 3.6 pounds. Minimal creep before the sear drops – and here go your accurate shots. 
I won't surprise anyone by saying a semi-auto pistol is quick to fire. But there are all kinds of semi-autos, and they don't all perform equally well. It was criminally easy to make follow-up shots with Buck Mark Practical, both because of the action and barrel weight.
To put it shortly: the pistol was a delight. I get to shoot new guns every now and then, and while many of them leave a good impression, rare is a firearm that prints into my memory. I've put the Buck Mark next on my "guns-to-buy" list. But should probably try out other models before making the final decision.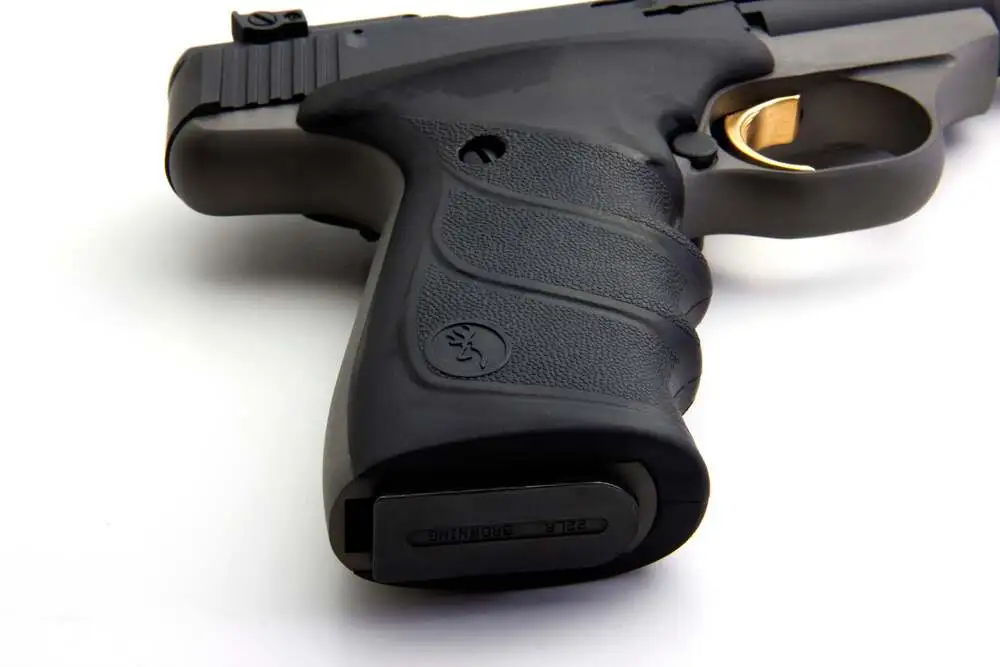 Pros and Cons
Instead of a conclusion that will repeat everything you've read so far, I'll draw up a list of pros and cons. It's more convenient and informative. Besides, you already know my opinion about guns.
Pros:
Direct-blowback action

. Better shot-to-shot consistency and reduced cycling load are guaranteed.

The

aircraft-grade aluminum alloy frame

: durable, lightweight and affordable.

The tensioned aluminum outer sleeve takes accuracy to a whole new level.

The

threaded barrel

with 1/2×28 threads allows for adding a muzzle brake or suppressor.

The

Pro-Target

adjustable

rear sights

and Truglo/Marble Arms

fiber-optic front sight

provide excellent assistance with aiming.

The grip is comfortable and secure, with

finger grooves

being a gift too pleasant to give up.

The

controls

are intuitive and user-friendly.

The

trigger

offers a light and crisp pull. 
Cons:
Some may find the

controls

, like the slide stop and safety,

sticking out

a bit too much.

You need to

feed it the right ammo

. I've read some other reviews while preparing this one and failures to eject weren't uncommon with certain loads.

The design may not appeal to traditionalists. The possibility of being disliked is not a valid drawback, but I'm writing this to say there are other designs available if this one doesn't tickle your fancy.
Check out our other Review articles:
FAQs
What is the recoil like on the Browning Buck Mark Practical?
Thanks to its blowback action and rimfire nature, the Buck Mark Practical manages recoil effectively, offering minimal felt recoil and better shot-to-shot consistency.
How does the trigger perform on the Browning Buck Mark Practical?
The trigger response and reset on the Buck Mark Practical are excellent. The trigger is smooth and crisp, with a light average pull weight of just 3.6 pounds.
Can I add accessories to the Browning Buck Mark Practical?
Yes, you can. The Buck Mark Practical has a threaded barrel with 1/2×28 threads for muzzle accessories.
Source link: https://blog.gritrsports.com/browning-buck-mark-practical-review/ by Timothy Chandler at blog.gritrsports.com