As an Amazon Associate I earn from qualifying purchases.
Mahi mahi ceviche is a great way to serve this fish, and this recipe is inspired by all the various ceviches I've eaten in Baja California. I actually made this dorado ceviche in Baja with mahi mahi I caught there. It's fresh, easy, and light for a hot day.
Mahi mahi is the Hawaiian name for the fish called a dorado in Spanish and dolphinfish in English, although we rarely use that term in America any more because no, these are not dolphins.
Mahi, dorado or whatever you want to call it, is among the most sustainable fish in the ocean because they are wildly abundant and grow very fast: They are considered mature at 5 months old, weighing about 6 pounds, and can get to 40 pounds in a year. They rarely live beyond 6 years.
Most are caught by hook and line by sport anglers, and they are indeed super fun to catch.
I've caught them in North Carolina down to Florida, the Gulf of Mexico, in Southern California and in Mexico. They occasionally get farther north, but mahi mahi are generally a warm water fish.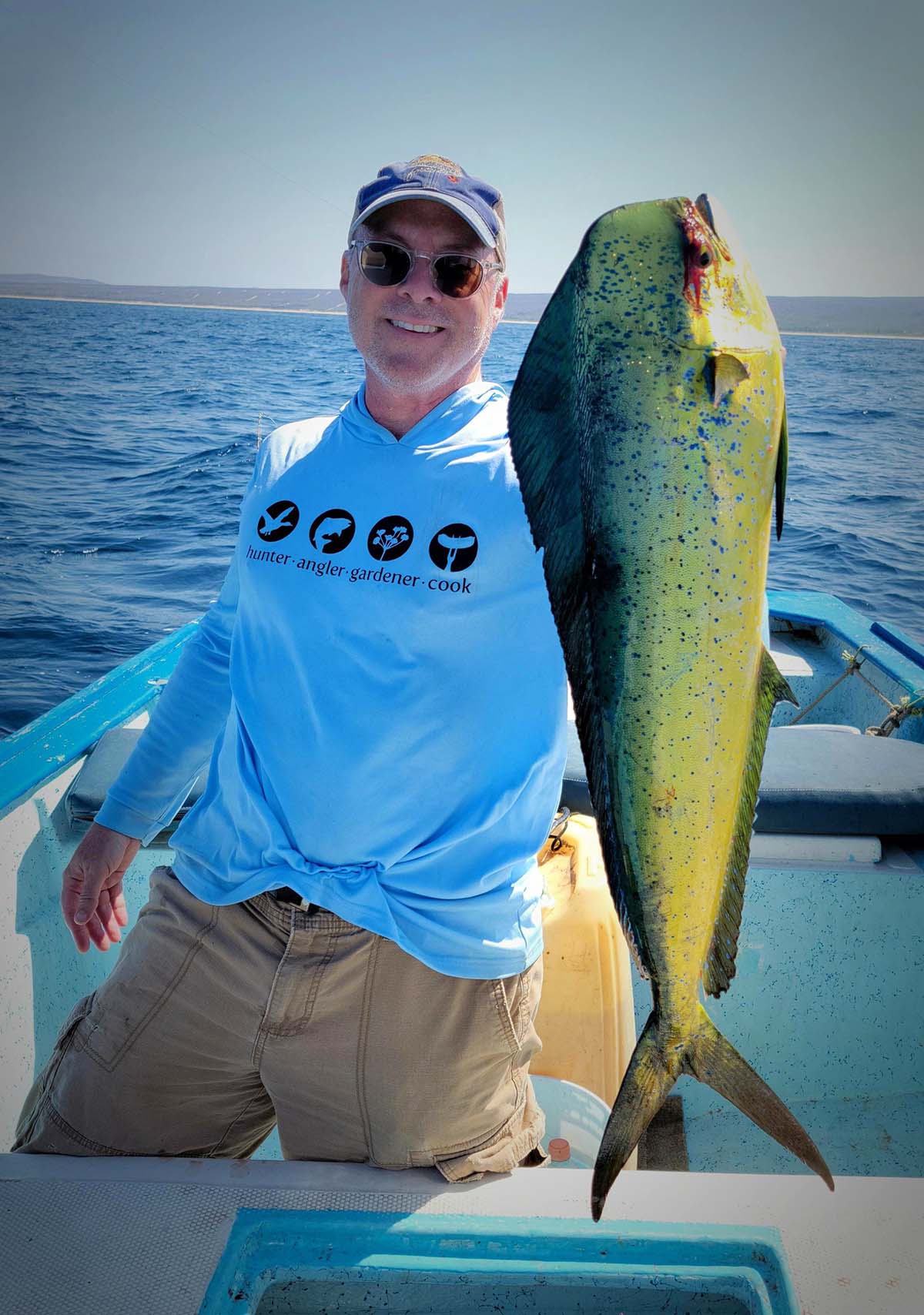 You can scale them and eat the skin, which gets crispy on the grill; for more on eating fish skin, read my article here.
But mostly you'll see skinless fillets. Pan-seared mahi mahi is excellent, as is grilled. But in Mexico, you will almost always see the fish served in a mojo de ajo sauce, or as ceviche.
One note on slicing fish for ceviche: Always try to slice the little cubes across the grain of the flesh, especially near the tail. Most fish, and especially mahi mahi, are sinewy near the tail, and if you don't make the slices thinly across this, you'll end up with chewy ceviche.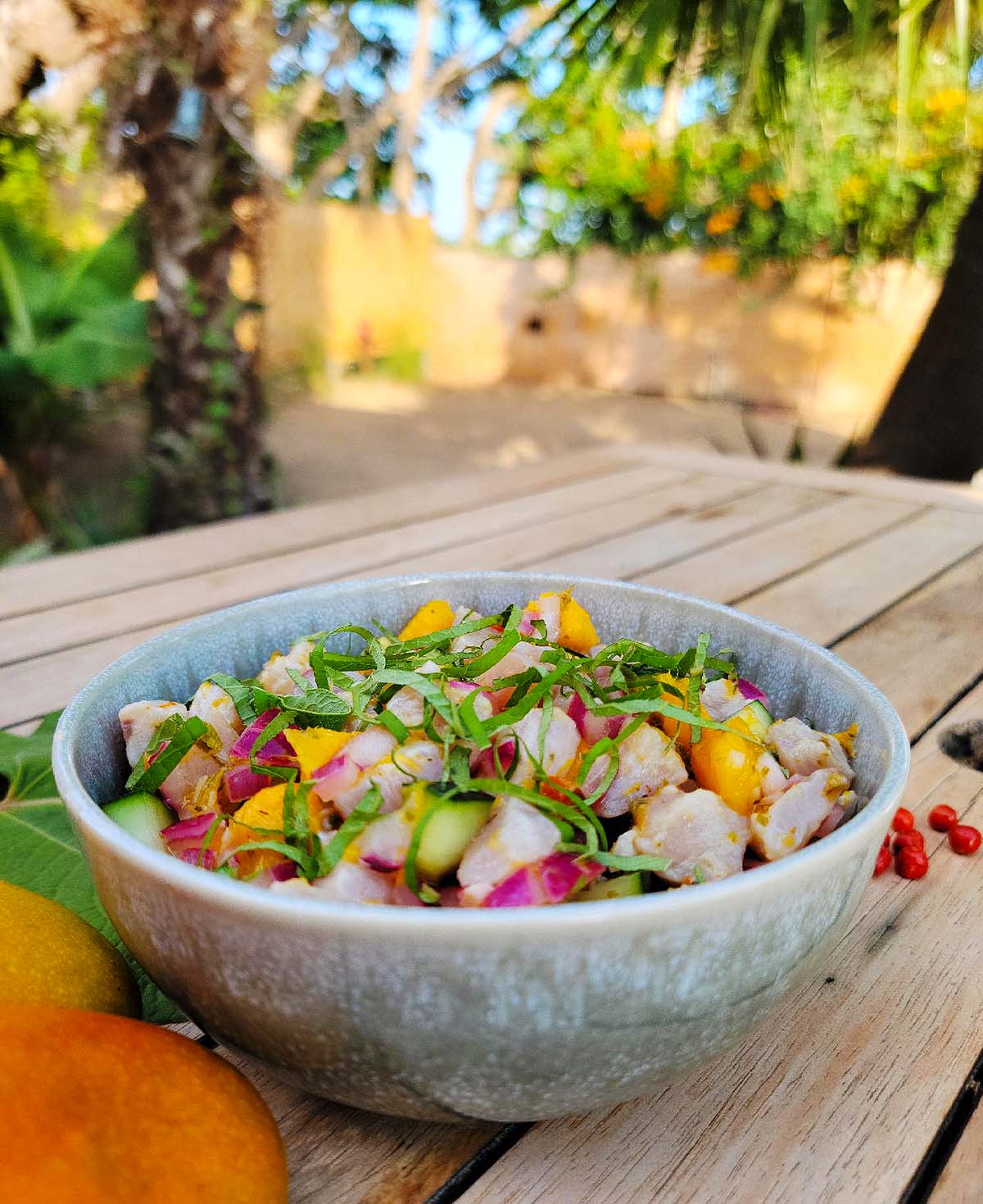 The Recipe
This mahi mahi ceviche is inspired by the little casita I stayed at in Todos, Santos, about an hour north of Cabo San Lucas, in Baja. Mango trees grow all over property, and the town — there was a mango festival while I was there in July.
So I added mango. I really like the addition of fruit to a ceviche, and if you don't like mango, I'd recommend pineapple, little mandarin segments, or, if you want to stray from tradition, tart berries. You won't see berries in ceviche in Latin America, or at least I never have, but it would work.
The chiffonade of herbs on top of the ceviche is hoja santa, which grows all over Todos Santos as well. It has a root beer-like flavor, and I liked it in the mahi mahi ceviche — but hoja santa can be tough to find. Sub in cilantro, mint or basil instead.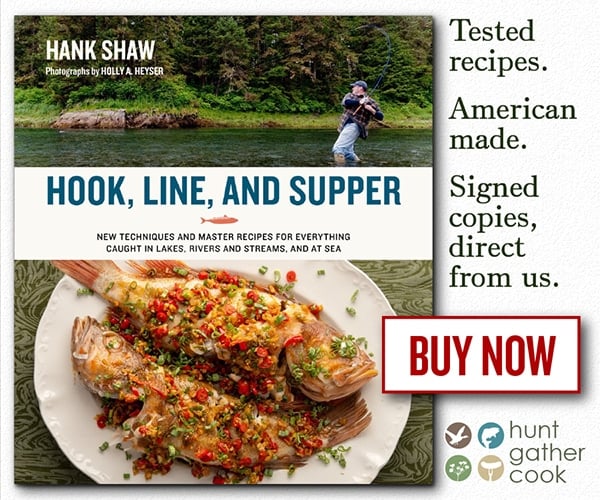 Serving Mahi Mahi Ceviche
I served my dorado ceviche with some excellent tortilla chips I bought at a local market. It would also be perfect as ceviche tostadas, which is how you will see ceviche served a lot in Mexico.
You can also serve it on soft corn tortillas as a taco, but if you do, I'd recommend smearing some guacamole on the tortilla first, so the moisture from the ceviche doesn't destroy the tortilla as you eat it.
Occasionally I've seen ceviche served alongside potato chips or Doritos or Takis. Not a huge fan, but people like it.
If you want to go lighter, serve your mahi mahi ceviche over lettuce cups.
Mahi Mahi ceviche will keep a day in the fridge, but it's really best eaten within a few hours' of making it.
If you liked this recipe, please leave a ⭐️⭐️⭐️⭐️⭐️ rating and a comment below; I'd love to hear how everything went. If you're on Instagram, share a picture and tag me at huntgathercook.
Pour the citrus juice into a bowl. Crush the chiltepin chiles, if using, and add to the juice, then add the diced red onion, oregano and garlic. Sprinkle a little salt over it all.

Slice the fish into small dice, making sure to slice any areas with strong sinew, mostly near the tail, thinly across the grain of the meat. Add to the ceviche mix. Chill this for 30 minutes, for the fish to marinate.

When you are ready to serve, add the remaining ingredients, stir well and serve cold with tortilla chips or on tostadas.
If you want some heat but don't have hot, dried chiles like the chiltepin chiles, simply mince a serrano, habanero or a couple jalapenos and add with the red onion.
Don't like mango? Substitute pineapple chunks. 
Calories: 153kcal | Carbohydrates: 15g | Protein: 22g | Fat: 1g | Saturated Fat: 0.3g | Polyunsaturated Fat: 0.3g | Monounsaturated Fat: 0.2g | Cholesterol: 83mg | Sodium: 103mg | Potassium: 703mg | Fiber: 2g | Sugar: 9g | Vitamin A: 1021IU | Vitamin C: 35mg | Calcium: 46mg | Iron: 2mg
Nutrition information is automatically calculated, so should only be used as an approximation.
Source link: https://honest-food.net/mahi-mahi-ceviche-recipe/ by Hank Shaw at honest-food.net