This is a lovely Spanish quail recipe where you stew the quail with onions, then serve them separate from their broth, which you then eat with pasta. It's a great date night or weekend dish that works with any white meat poultry.
I love this dish because it makes full use of everything you're cooking, without it being a full-on stew. Europe has a number of dishes like this, where you stew something, then serve the meat and vegetables separate from the broth; French pot au feu springs to mind.
This Spanish quail recipe is similar. It's called caldereta de cordonices, although it is not very similar to other caldereta recipes I've seen. I first read about it in Penelope Casas' wonderful book The Foods and Wines of Spain.
The original recipe uses Spanish fideo noodles, but I went with Italian angel hair. They are similar, but angel hair is finer and cooks faster, and, since it's just the pasta and the broth, I find the mouthfeel to be better. The effect is a little like eating Vietnamese pho.
Pasta forms the starchy backbone to this Spanish quail recipe, one you can skip if you feel strongly about it, or are gluten-free. In that case, you could just cook some rice and make it a rice soup. Or skip it altogether.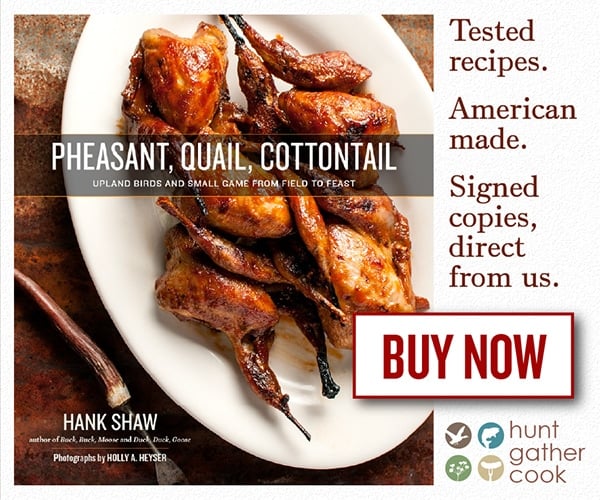 Quail Alternatives
I am stewing 8 wild quail here, but there is no reason at all you couldn't sub in other light meats. Some good options include:
1 domestic rabbit or 2 cottontail rabbits or 3 squirrels
2 Cornish game hens or ruffed grouse
1 or 2 chickens, blue grouse or pheasants
4 partridges or chukars
In theory, you could use wild turkey thighs, and it would be OK, but they are a little dark. Ditto for darker grouse like prairie chickens, sharp-tailed grouse and ptarmigan.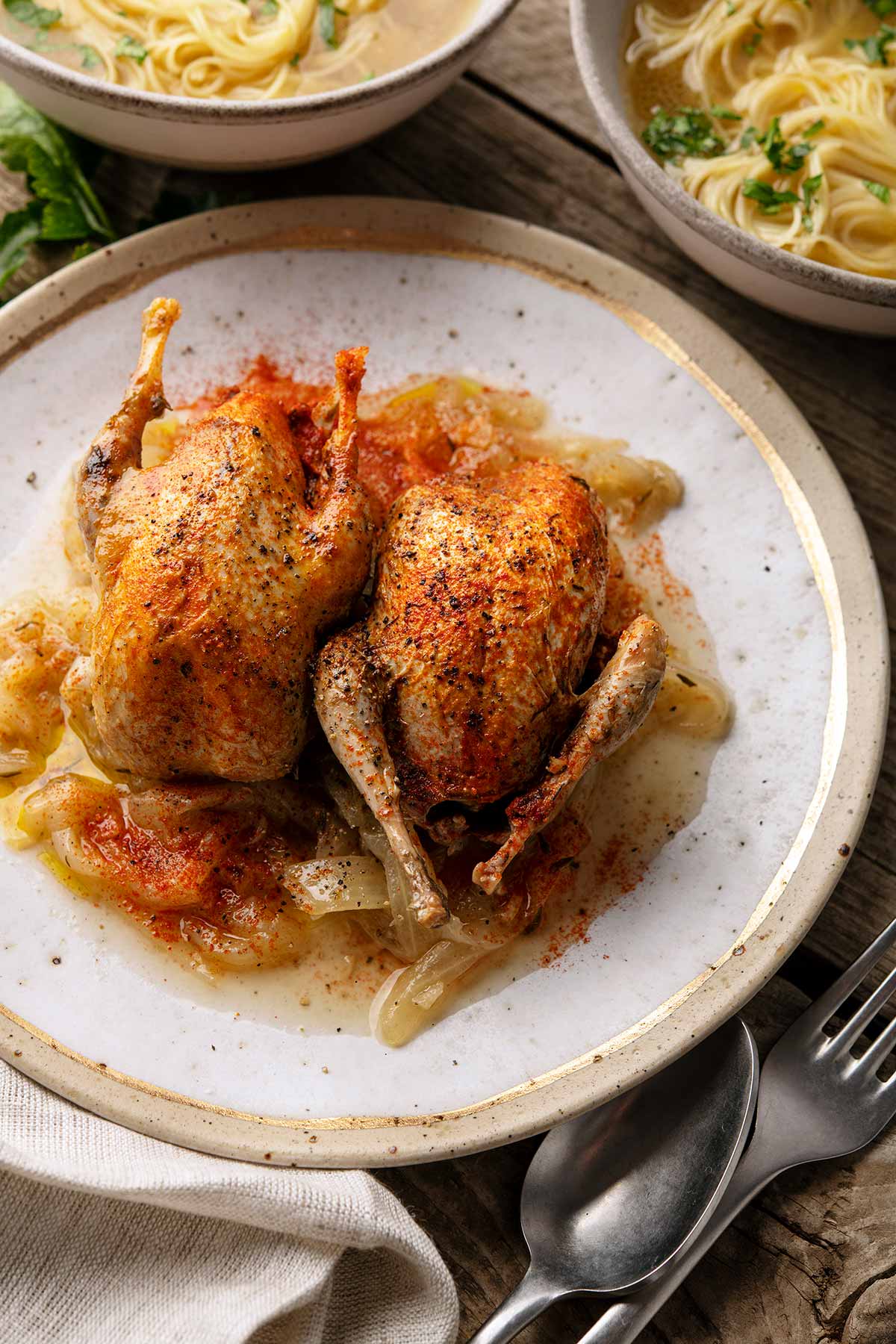 Cooking Spanish Quail
Super easy. Add some olive oil to your soup pot and sauté some onions and garlic. Add the quail, broth, a little vinegar, and some herbs and stew it all until the quail are tender, anywhere from 1 to 2 hours depending on whether you are using farmed quail or wild.
Gently remove the stewed quail, strain the broth, fish out the aromatics, then serve the quail on the onions with some black pepper and paprika.
You cook the pasta quickly — thus the angel hair, which takes only a couple minutes to cook — and put that in bowls with the broth. Doneski.
The broth will keep for a week in the fridge, as will the quails. But the quail are really at their best when they're ready. That said, if you want to preserve them a while, do this:
Use just enough of the broth to submerge the birds. Add 3/4 cup of vinegar to that broth and bring it to a boil.
Put the leftover quail in there, or all of them if you want, and souse them in that acidic broth in the fridge for up to 10 days. They're great served as a cold lunch.
This is very similar to my recipe for Spanish partridges escabeche.
Other Spanish Recipes
Some other Spanish recipes you might like would be Spanish mushroom rice, merluza en salsa verde, which is a fantastic recipe for fish in an herby green sauce, and the king of all stews, chilindron.
If you liked this recipe, please leave a ⭐️⭐️⭐️⭐️⭐️ rating and a comment below; I'd love to hear how everything went. If you're on Instagram, share a picture and tag me at huntgathercook.
Heat the olive oil in a large, lidded pot like a Dutch oven over medium-high heat. When it's hot, sauté the onions until they just start to brown a little. Stir in the garlic and cook another minute.

Add the quail, stock, vinegar, parsley stems, celery stalk, and thyme and bring to a simmer. Add salt to taste. Cover the pot and simmer very gently until the quail are tender, about 1 to 2 hours depending on whether the quail are farmed or wild.

While that's happening, bring a large pot of water to a boil and add salt. This is your pasta water, and you want this ready when the quail are.

When the quail are tender, gently move them from the pot to a plate to rest. Strain the broth into another pot, or a bowl (then wipe out the original pot), and fish out the thyme, celery and parsley stems.

Cook the angel hair pasta in the salted water for a minute or three, then move some to each person's bowl. Pour the broth over, and, if you want, chop the leaves from the parsley as a garnish.

Serve the quails on the onions, topped with paprika and black pepper. If they've cooled too much, pour just a little of the hot broth over them before adding the pepper and paprika.
Calories: 1028kcal | Carbohydrates: 98g | Protein: 66g | Fat: 41g | Saturated Fat: 10g | Polyunsaturated Fat: 9g | Monounsaturated Fat: 18g | Cholesterol: 166mg | Sodium: 241mg | Potassium: 1188mg | Fiber: 5g | Sugar: 7g | Vitamin A: 588IU | Vitamin C: 21mg | Calcium: 95mg | Iron: 11mg
Nutrition information is automatically calculated, so should only be used as an approximation.
Source link: https://honest-food.net/spanish-quail-recipe/ by Hank Shaw at honest-food.net