Last Updated on
This article is likely to catch the attention of two kinds of people: some looking specifically for 5.56 pistols, and others wondering why anyone would want a mini-version of an AR rifle. The question of the latter group is not ungrounded, especially after the story with stabilizing braces came to its notorious end. We'll answer that and some other questions, but only after serving our first group the answer they came for. There's a table of contents for you to navigate, in case you are more interested in some particular topic. With formalities out of the way, let's see what the best 5.56 pistols are in 2023.
Table of Contents
The Best 5.56 Pistols
      Radical Firearms Pistol
      ATI Milsport
      CMMG Dissident Mk4 
      SIG Sauer MCX-SPEAR LT 
      FN SCAR 15P
AR Pistols vs. AR Rifles
The Issue of Braces
Things To Pay Attention To
Conclusion
FAQs
The Best 5.56 Pistols
We've got some real beauties lined up for you. Pistols that can spit fire and brimstone like nobody's business. Pistols that look as good as they shoot. And most importantly, pistols that won't let you down when the chips are down. The price range is most extensive, so whether you are on a budget or have a grand or two to spare, you'll find something that might pique your interest.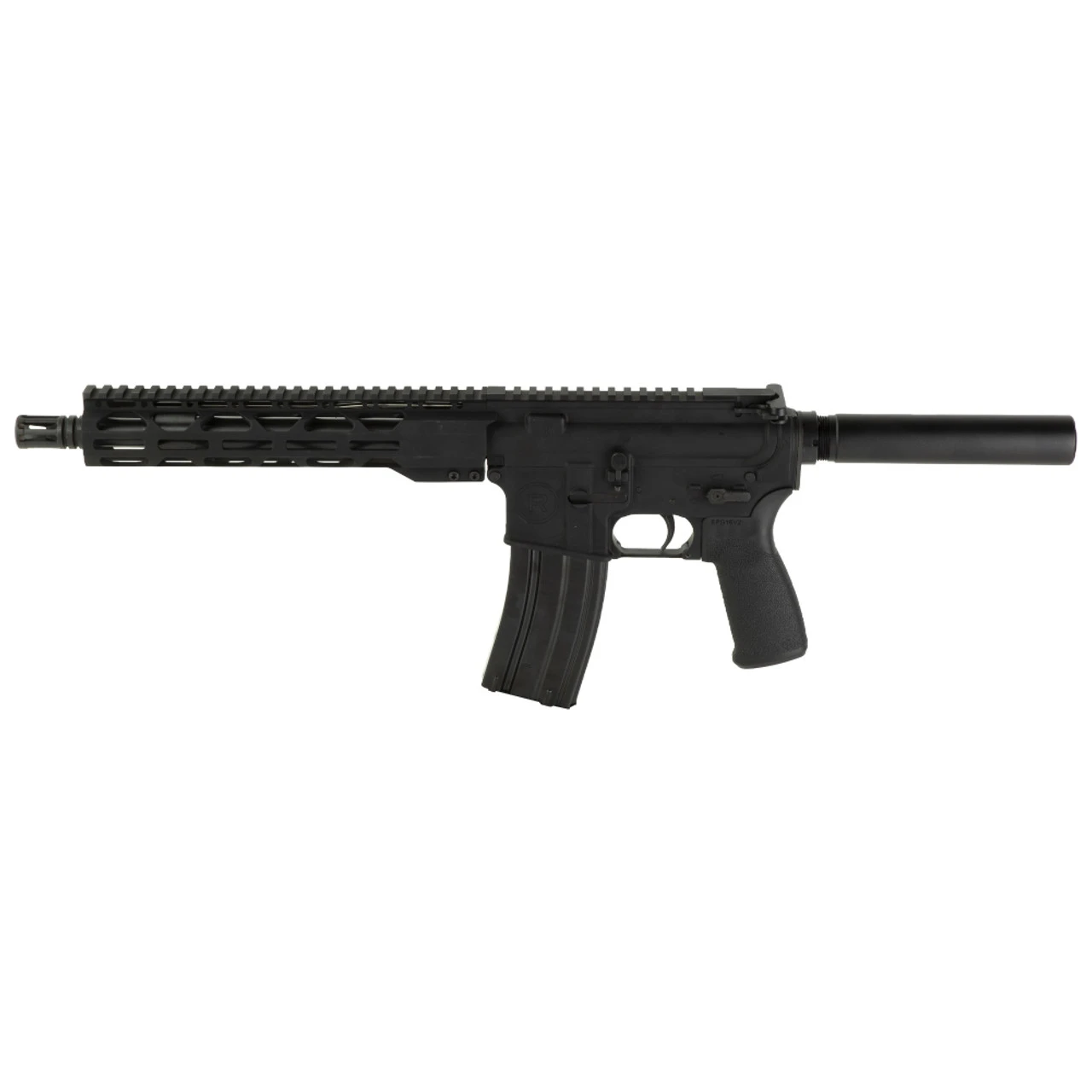 Radical Firearms 10.5in 30rd Semi-Auto Pistol
The Radical Firearms 5.56 NATO 10.5in 30rd Semi-Auto Pistol with a 10in RPR M-LOK Handguard is an impressive piece of machinery. I've tested my fair share of firearms, and this particular model has some features worth praise. It's also the cheapest on the list, and the rest are more suitable for really dedicated AR enjoyers. If you are only dipping your toes in the world of 5.56 pistols, this one might be just the thing for you. 
Design and Build
Let's start with the design. The Radical Firearms 5.56 pistol sports a MIL-STD upper and lower receiver – a pretty solid foundation for the weapon. The 10" M-LOK Thin Rail provides ample rail space for accessories, and a vast M-LOK interface will make mounting those a piece of cake. 
However, the pistol's compact size might be a double-edged sword. While it's perfect for maneuverability and close-quarters combat, the reduced barrel length doesn't really help with long-distance accuracy. The pistol is equipped with a buffer tube, which offers at least some point of support, now that stabilizing braces are basically considered "SBR-making" accessories. It's not much, but it's something. 
Performance and Handling
When it comes to performance, the Radical Firearms 5.56 pistol delivers in spades. It features a carbine gas system, one of the two choices you have with an AR pistol. The cycling was quite reliable and consistent, no questions asked. The 30-round capacity is also more than sufficient for most applications, especially given the fact it's a pistol.
One thing that caught my attention while reading about this pistol was the HBAR barrel. It was said that the heavy profile barrel was designed to resist overheating during rapid fire. It's a semi-auto, so you can only shoot it so fast, but the barrel didn't overheat once while I was testing it (had to reach it through the handguard to check). However, the added weight might be a concern for some users who prioritize a lightweight firearm. But again, with an AR pistol, you'll probably have to settle for something between 4.6 and 6 lbs. 
Overall, the Radical Firearms 5.56 NATO 10.5in is a robust and reliable firearm. It offers a good balance of power and versatility, and with dozens of customization options, you'll be able to somewhat diversify its otherwise stiff look. However, like any firearm, it's not without its inconveniences. But with its extremely reasonable price point, this pistol is a solid choice for anyone looking to add a 5.56 pistol to their arsenal.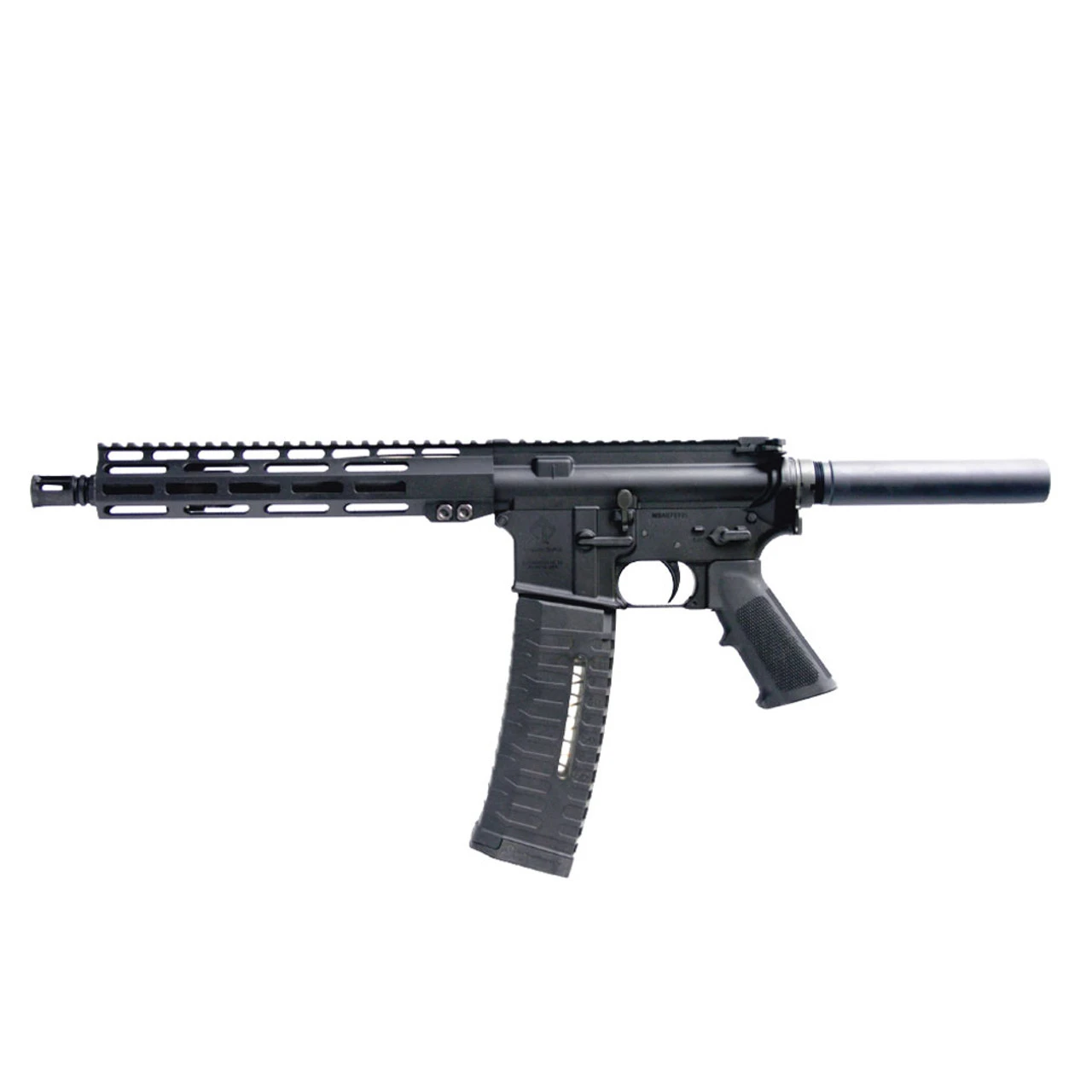 American Tactical Imports Milsport 10.5in 60rd AR Pistol
We move on to the second and last budget 5.56 pistol on the list, brought to us by one of the most renowned importers on the American market: American Tactical Imports. The ATI Milsport 5.56mm 10.5in 60rd AR Pistol might be quite a mouthful, believe you me, this little beast is as approachable as it is impressive.
Design and Build
First off, let's talk about aesthetics, something the Radical Tactical's creation didn't excel at. The Milsport AR is a sleek, no-nonsense pistol with pronounced but temperate features. It doesn't try to impress you with flashy looks – it's all business, and I like that. But hey, beauty is in the eye of the beholder, so it's just one take on it.
Moving on to the build quality, the Milsport is impeccably made. Its forged aluminum upper and lower receivers are durable, while the 10.5-inch barrel length strikes a perfect balance between maneuverability and range. The grip is pretty comfortable too. You can spy another buffer tube, which is, well, more than nothing. 
Addressing the elephant in the room, the Milsport's 60-round magazine. I should say that even with a mag this big the pistol still looks gorgeous. It's great for extended shooting sessions and will allow you to shoot until the cows come home. It does, however, add considerable weight to the firearm. It's not much of a problem on a range if you're not actively moving, but I do understand it might not be for everyone.
Performance and Handling
Now, let's talk about the fun stuff – performance. The Milsport 5.56mm AR pistol is a joy to shoot. The cycling was consistent and the recoil was forgiving: all thanks to its carbine-length gas system (and probably a magazine loaded with 60 rounds). The trigger pull might have been a tad heavy, but not uncomfortably so.
So, is the American Tactical Imports Milsport worth your hard-earned cash? Well, it's got a lot going for it: solid build, reliable performance and a hearty serving of firepower. Given it's still within the $500 limit, I would say surely. It's not without flaws, but all things considered, this firearm definitely deserves a spot in your collection.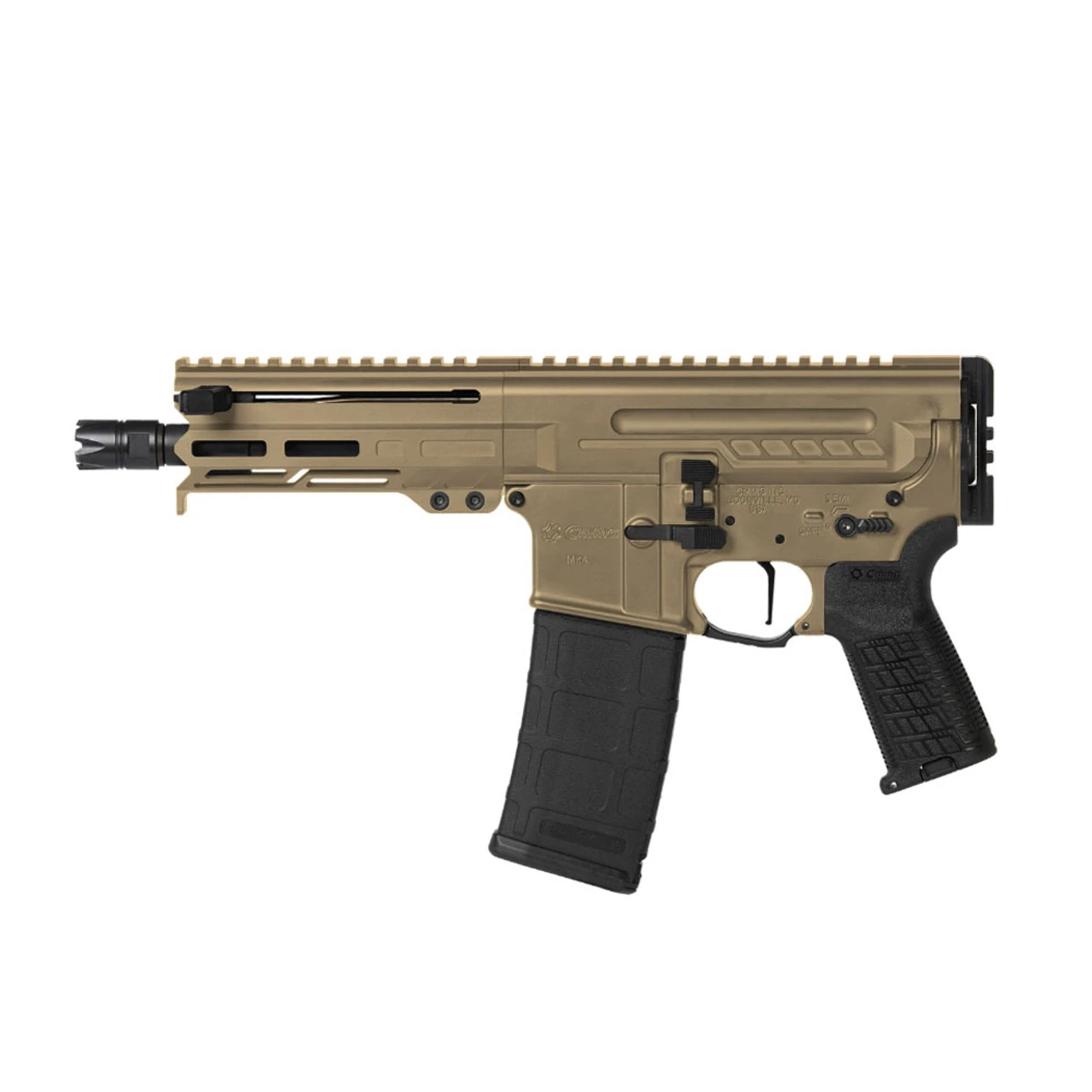 CMMG Dissident Mk4 6.5in 30rd AR Pistol
Let's leap into a different price category because there are a lot of AR pistol herds roaming these expanses. It's worth noting that CMMG decided not to follow the beaten path and in many ways reimagined and even innovated a 5.56 pistol. Their take on an AR handgun, the Dissent MK4, is in many ways outstanding. 
Aesthetics and Build
The CMMG Dissent MK4 opens up the line of beige-sand-colored pistols, with this particular model sporting a Coyote Tan color as the dominant one (they'll get brighter as we go). Since the pistol is equipped with a short 6.5" barrel, the handguard is also short and not that pronounced. It's alright, though, because the next AR pistol has a longer barrel and handguard, so we can get both preferences covered.   
The build quality is as solid as a rock – or, in this case, forged 7075-T6 Aluminum. That's the same stuff they use to make airplanes. If it's good enough to fly, it's good enough to fire.
The 6.5-inch barrel might be a point of contention, though. While it makes the pistol compact and maneuverable, it could affect long-distance accuracy. But then again, if you're looking for a sniper rifle, you're probably in the wrong section. At the very least, you could get an AR-15 rifle instead of a pistol. And we have just the article for such a case: 6 Best AR-15 Rifles For Your Needs.
Performance and Handling
Now, onto the meat and potatoes. The Dissident MK4 boasts a 30-round capacity – enough to keep you shooting for quite a while. The pistol also features a single-stage mil-spec-style trigger. It's not exactly a feather touch, but it's reliable and gets the job done. If you're a trigger connoisseur, though, you might find it a bit pedestrian.
Now to the main course. You won't see a buffer tube on this pistol, and there is a reason for it. The other thing you won't be able to see is a traditional AR recoil system, both because it's supposed to be inside and because there is no such thing in this pistol. Instead, CMMG installed their proprietary Compact Action system. In this configuration, the reciprocating action parts are contained within the upper receiver, so both a buffer and a recoil spring mechanism become unnecessary.   
The company claims that the Dissident MK4 is the shortest and most stowable self-defense weapon they've produced so far. Though I haven't tested enough of other CMMG firearms, this one is indeed pretty ergonomic. It's comfortable, it's secure, and it's a pleasure to hold, especially with the Magpul MOE pistol grip. No stock, brace or buffer tube on this guy, which might not be what you expect of an AR-style weapon, but a pistol is a pistol for a reason.
If you're after a compact, reliable and good-looking firearm, then consider getting a CMMG Dissent MK4. And don't let the price tag startle you: even pricier 5.56 pistols are just around the corner.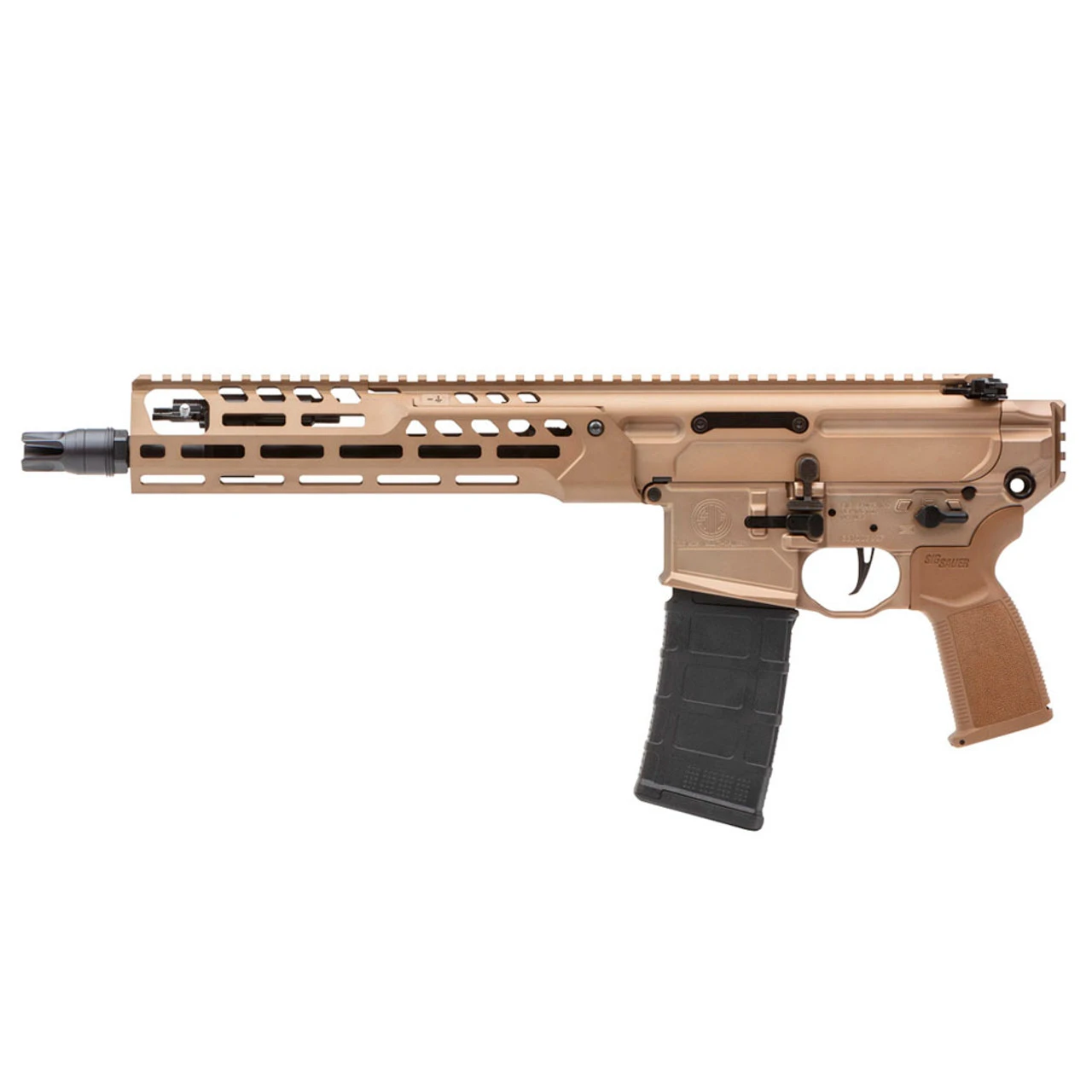 SIG Sauer MCX-SPEAR LT 11.5in 30rd Coyote Pistol
Another leap, an equally big one – and here we are, crossing the 2k margin. We are immediately greeted by the shining body of a SIG Sauer MCX-SPEAR LT. This coyote spots an even brighter coat and even more sophisticated features. It is in some ways similar to a CMMG we've just parted with, but the differences are also plenty.
Aesthetics and Build
The further we move, the more appealing the guns look. Nothing seems out of place in this model. The ambidextrous bolt catch is masterfully incorporated into the design. The handguard, though easily removable, seamlessly merges with the body of the pistol. And to diversify the sand-colored palette of the MCX-SPEAR LT, SIG Sauer added black elements through the lightened barrel and a 30-round magazine 
The brand played a lot with the MCX platform, trying to bring it to perfection. This can be seen in both looks and build. The pistol features SIG's gas-operated, short-stroke piston system that ensures reliable cycling and reduces recoil. If you are not pursuing the goal of shooting a target 500 yards away, you'll find the 11.5" barrel pretty sufficient.
Performance and Handling
When it comes to performance, the MCX-SPEAR LT is no slouch. Its 30-round capacity (which should be considered standard for 5.56 pistols by this moment), provides ample firepower for extended shooting sessions. The gun weighs 6.1 lbs, which I think is the heaviest on the list, but again, not performance-affecting heavy.
One standout feature is the SIG Flatblade Match Trigger. I've written a few times in this article the triggers were okay, not excellent and sometimes a bit unsatisfying, but ok nonetheless. This is absolutely not the case for SIG Sauer MCX-SPEAR LT. This trigger offers a crisp, clean break, and only helps with landing precise shots. However, considering the price tag of this pistol, it would be quite disappointing to see anything less.
Ergonomically, the MCX-SPEAR LT shines with its lightweight handguard and fully ambidextrous controls. These features make handling the pistol a breeze, regardless of whether you're right or left-handed. No brace here, you know the story, brace yourself instead. 
Any disadvantages one might find here would be more a matter of preference. SIG Sauer tried their best to make another iteration of an MCX perform stellarly and to justify the price tag they've put on it. By no means a budget pistol, the MCX-SPEAR LT will be a worthy addition to any gun collection.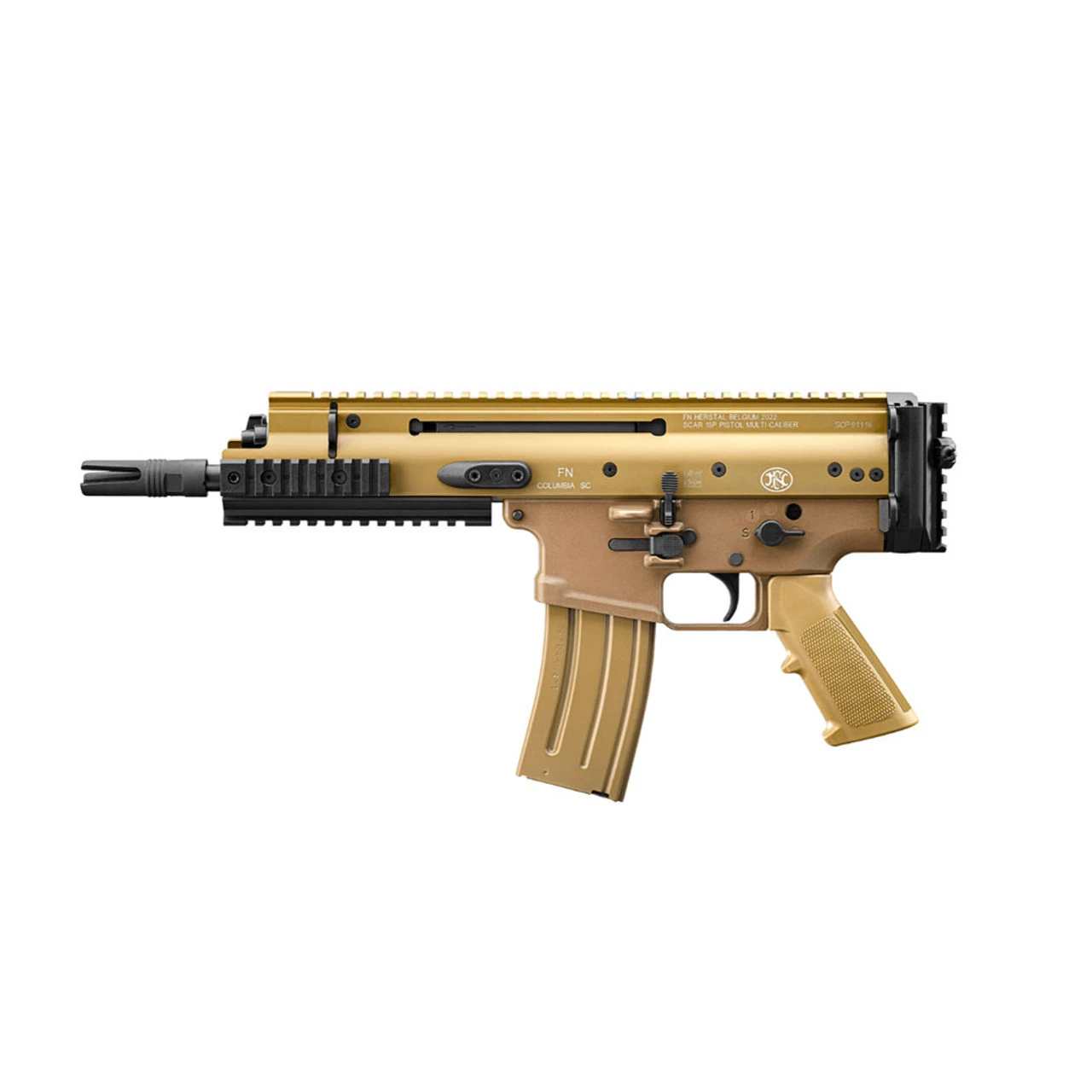 FN SCAR 15P
We've climbed to the top of the ladder and can now witness a firearm that could easily be called a crown jewel of this list, both because of the performance and price. The SCAR series guns appeared in many a movie and even some video games. As iconic as it is high performing, the SCAR series saw its continuation in a shortened, more compact iteration: SCAR 15P.
Aesthetics and Build
The FN SCAR 15P is an absolute eye candy, performed in a gorgeous Flat Dark Earth color, which, truth be told, might be too screaming for some people. All the elements are placed with a precision a surgeon would envy. A significant part of its surface is Picatinny-railed, which could have been a visual imperfection on an otherwise pristine surface, were it not FN who designed the gun. With the rail on the rear, you can turn this pistol into an SBR at any moment, should you wish to. Or add a bit more stability using a sling, because the rear can also take the QD sling swivel mount that comes in a bundle.
One of the most significant advantages of the FN SCAR 15P is its lightweight design. The pistol's frame is made from anodized aluminum, which keeps the weight down without compromising the robustness of the construction. Should fate have you carry this firearm for extended periods, you are very unlikely to feel encumbered by it.
The FN SCAR 15P comes with a 7.5-inch cold hammer-forged barrel with a chrome-lined bore. This duo is adorned with a 3-prong flash hider that conceals the flash completely, which is quite an achievement for a 7.5" pistol chambered in a 5.56×45. Additionally, the barrel's free-floating design, common for ARs, further ensures no inconvenience will stand in your way.
Performance and Handling
Another notable feature of the FN SCAR 15P is its non-reciprocating charging handle. Two, actually, a longer and a shorter one. You can have both of them installed at the same time to make the pistol truly ambidextrous. Such a design also reduces the risk of misfeeds and jams
The pistol features a short-stroke piston system, tested by many other SCAR models. The gas block has two modes: one for suppressed shooting (to address the issue of excessive pressure), and one for unsuppressed. The gun runs cleanly thanks to the superb clean system, which is another gift from the FN engineers
It feels like at least a tiniest fly should be bogged down somewhere in this ointment, but I couldn't find any. Apart from the price tag, of course, but I think it's the very reason why the FN SCAR 15P feels so polished. We've seen each other for only a brief moment, but I don't think I've held a better AR pistol in my life. It didn't fail me once, it felt great and I was more than content with the accuracy of the shots. It seems I'll have to start saving because this one is too good to pass.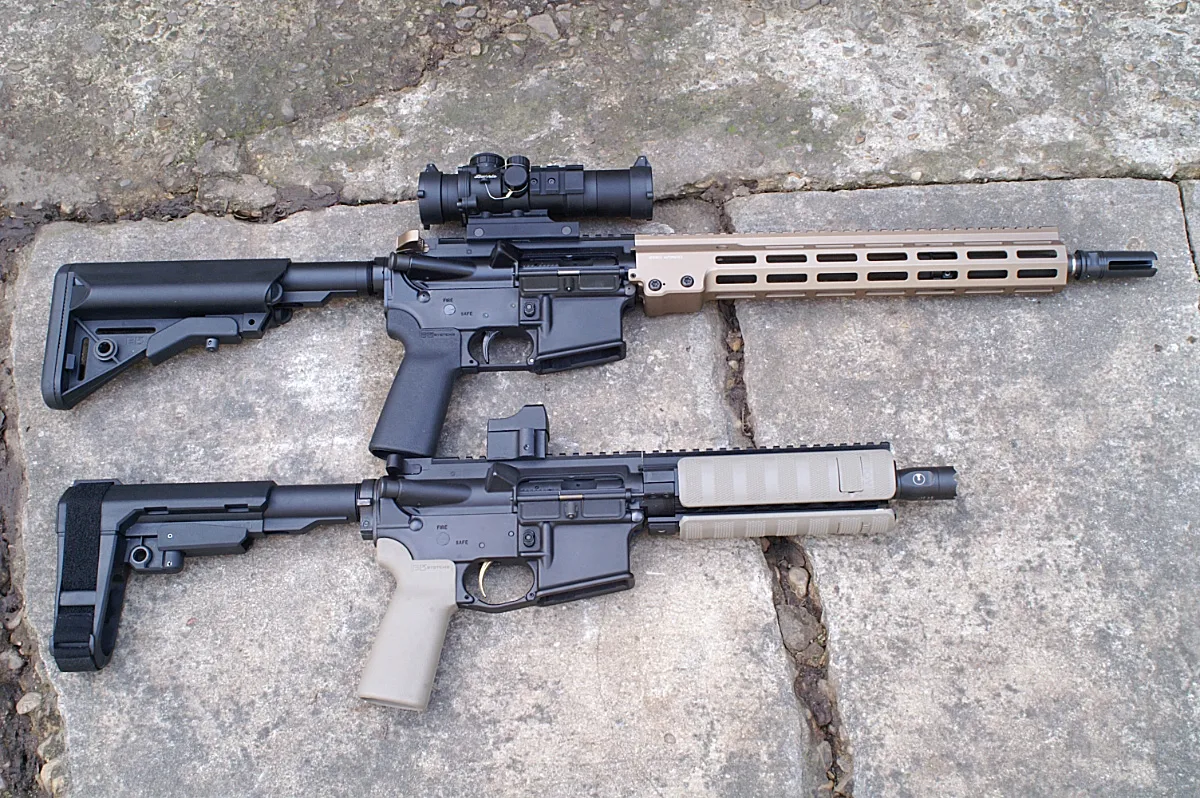 AR Pistols vs. AR Rifles
So, now to the question of why 5.56 pistols exist in the first place. It was easier to answer that question when stabilizing braces weren't banned, but we have to play the hand we're dealt. First off, AR pistols are much more convenient. They aren't the type of gun for concealed carry, but they can be an excellent choice for home defense. They offer all the benefits of an AR rifle in a more compact and maneuverable package. And you don't have to switch to handgun rounds. Of course, with barrels that short, they won't excel at long-distance shooting, but nobody gets an AR pistol for that anyway. Even with the braces gone, these firearms have plenty of benefits.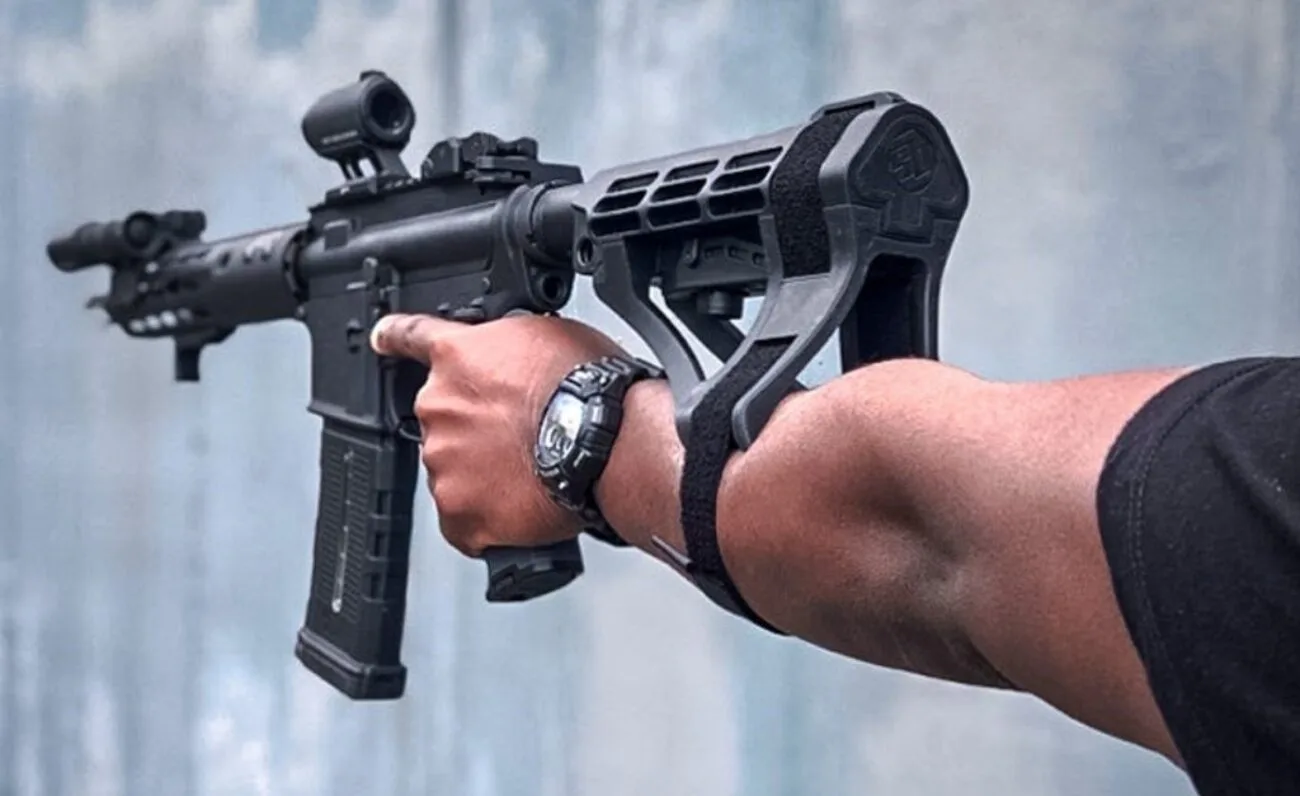 The Issue of Braces
In case you haven't heard about the stabilizing braces story, here's a recap. It's January 2023, and the Attorney General signs the ATF final rule 2021R-08F, aka "Factoring Criteria for Firearms with Attached 'Stabilizing Braces'". This rule amends ATF's regulations and turns nearly all pistols with stabilizing braces into Short-Barreled Rifles (SBRs). And it isn't the same rose by another name: SBRs are heavily regulated under the National Firearms Act (NFA). That means their owners are required to register them as such. Imagine waking up one day and being told your trusty AR pistol has now grown into an SBR overnight and needs to be registered with the ATF.
This ruling essentially made many AR pistols subject to the same regulations as SBRs, which led to a significant shake-up in the market. Suddenly, owning an AR pistol wasn't as simple as before. The additional paperwork, tax stamps, and wait time associated with registering a firearm as an SBR certainly dampened the appeal of these weapons for many prospective buyers. There was little sense in selling stabilizing braces since they were mainly meant for AR pistols. All pre-assembled AR pistols with braces needed to have the brace detached. There was a period during which owners could get the tax stamp for free, but it expired in May. So, now there are only buffer tubes left. Curtain falls.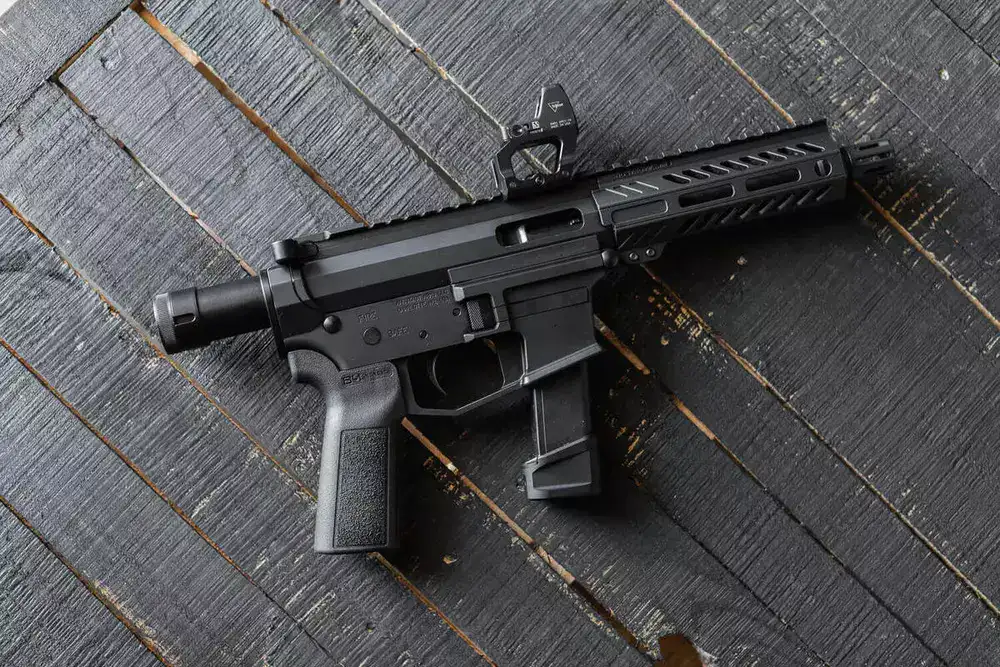 Things To Pay Attention To
In case you want to roam the expanses of the Internet searching for other 5.56 pistols, here are some of the things you might want to consider.
Barrel Length & Twist Rate
The barrel length and twist rate can have a big impact on your pistol's performance. A shorter barrel will make your pistol more maneuverable, but it may also reduce accuracy at longer distances. Similarly, the twist rate will affect how well your pistol stabilizes different types of ammunition. A faster twist rate (like 1:7) stabilizes heavier bullets, while a slower rate (like 1:9) is better suited for lighter bullets.
BCG (Direct Impingement vs. Gas Piston)
The type of ​bolt carrier group ​(BCG) your pistol uses can ​also make a difference. Direct impingement ​systems are ​lighter and simpler, ​but they can also​ run hotter and ​dirtier. Gas ​piston systems are ​cleaner and ​cooler, but they're ​also heavier​ and more ​complex. All the ​pistols featured in​ this article feature​ a gas block​ system, but I ​don't hold any grudge​ against the direct impingement ​one.
Size and Weight
Last but ​not least, don't ​forget to consider the ​size and weight of your​ pistol. Remember,​ the whole point of a​ 5.56 pistol is to offer big ​firepower in a small ​package. So if it's too ​heavy or unwieldy, it kind ​of defeats the purpose, ​doesn't it?
Conclusion
And there you ​have it, folks! A comprehensive​ (I hope) guide to the ​best 5.56 pistols of​ 2023. There are ​dozens of other worthy​ options that we ​currently don't have in ​our store, so don't ​treat it as an exclusive guide. Those​ are the best 5.56 ​pistols we can ​provide you with. ​And remember, no ​matter which pistol ​you choose, the most​ important thing​ is to practice, ​practice and practice​ again. Because a ​pistol is only as ​good as the​ person wielding it. ​Take care and​ be well.
Check out our other articles on firearms:
FAQs
What makes 5.56 pistols a good choice for 2023?
Even without the ​support of a ​stabilizing brace, ​5.56 pistols are ​very reliable, efficient ​and versatile​ firearms. They offer ​the power of a 5.56 rifle ​cartridge in a ​compact size, making them​ ideal for various​ applications, from​ self-defense to ​sport shooting.
What are the key features to look for in 5.56 pistols?
Key features to ​consider when ​choosing a 5.56 pistol​ include the quality of ​the barrel, the type of bolt carrier​ group (BCG), the pistol's ​size and weight, and ​the presence of additional​ features like an ​adjustable gas block​ or the adjustability​ of charging handles.
Can I use 5.56 pistols for home defense?
Yes, 5.56 pistols​ make for some of the​ best home defense​ weapons. Their compact ​size makes AR pistols ​easier to handle in ​tight spaces compared ​to rifles, but they retain ​their firepower.
Source link: https://blog.gritrsports.com/best-5-56-pistols-2023/ by Timothy Chandler at blog.gritrsports.com