Last Updated on
Prepare to delve into the world of superior craftsmanship, timeless design, and unparalleled performance. Whether you're a seasoned shooter or a novice enthusiast, our in-depth guide to the best Browning firearms available today promises a thrilling journey. Enjoy reading.
Best Browning Firearms:
Browning Rifles
– X-Bolt bolt-action rifle
– BLR lever-action rifle
– BAR semi-auto rifle
Browning Shotguns
– A5 semi-auto shotgun
– Citori 725 over-under shotgun
Browning .22 Pistol: Buck Mark
Browning Rifles
Browning X-Bolt
The Browning X-Bolt has been lauded as one of the best bolt-action hunting rifles on the market. One of the most notable features of the X-Bolt rifle series is the three-lever Feather Trigger system that it employs, which provides a clean, crisp pull with zero take-up or creep. But while the trigger itself is good, it's not for everybody. The thing is that the trigger is adjustable from 3 to 5 lbs, and if you're more comfortable with a trigger that is below 3 lbs, you may need to change out the trigger spring.
A key element to the X-Bolt's success is, indeed, its bolt. The bolt handle has a 60° lift — shorter than the traditional 90° for most bolt-action rifles — which keeps your knuckles well away from the scope and allows for faster cycling of the action. The bolt itself runs buttery smooth and has 3 locking lugs that provide a secure lock-up and allow the rifle to handle high-pressure cartridges.
Browning has also incorporated a bolt unlock button that works in conjunction with the top-tang safety to offer a unique safety feature in the X-Bolt series. This bolt unlock button gives shooters the ability to unload the chamber with the safety engaged.
The X-Bolt is also recognized for its free-floating barrel, which is hand-chambered to ensure optimum alignment for improved accuracy. The barrel features a recessed muzzle crown to protect the rifling, further enhancing the rifle's accuracy.
Additionally, the X-Bolt comes with a rotary magazine that's unique to this model. This magazine is made from tough polymer, with cartridges that feed directly in line with the bolt for a straight path right into the chamber.
The X-Bolt is available in various calibers, including .223 Remington, .243 Winchester, .308 Winchester, .270 Winchester, and .30-06 Springfield, among others. This wide range of options allows shooters to choose the best fit for their hunting or shooting needs.
🟢 Smooth and reliable bolt
🟢 Good hunting rifle due to a lighter barrel and a 4-round capacity
🟢 High-quality construction
🟢 Variety of X-Bolt models
🔴 Limited aftermarket support
🔴 Some may find the trigger hard to operate, especially in a target shooting setting
Browning X-Bolt Max Long Range
Caliber: 6.5 PRC
Capacity: 3 rounds
Barrel Length: 26″
Weight: 8.3 lbs
Browning X-Bolt Hell's Canyon Max LR
Caliber: .6.5 Creedmoor
Capacity: 4 rounds
Barrel Length: 26″
Weight: 8 lbs
Browning BLR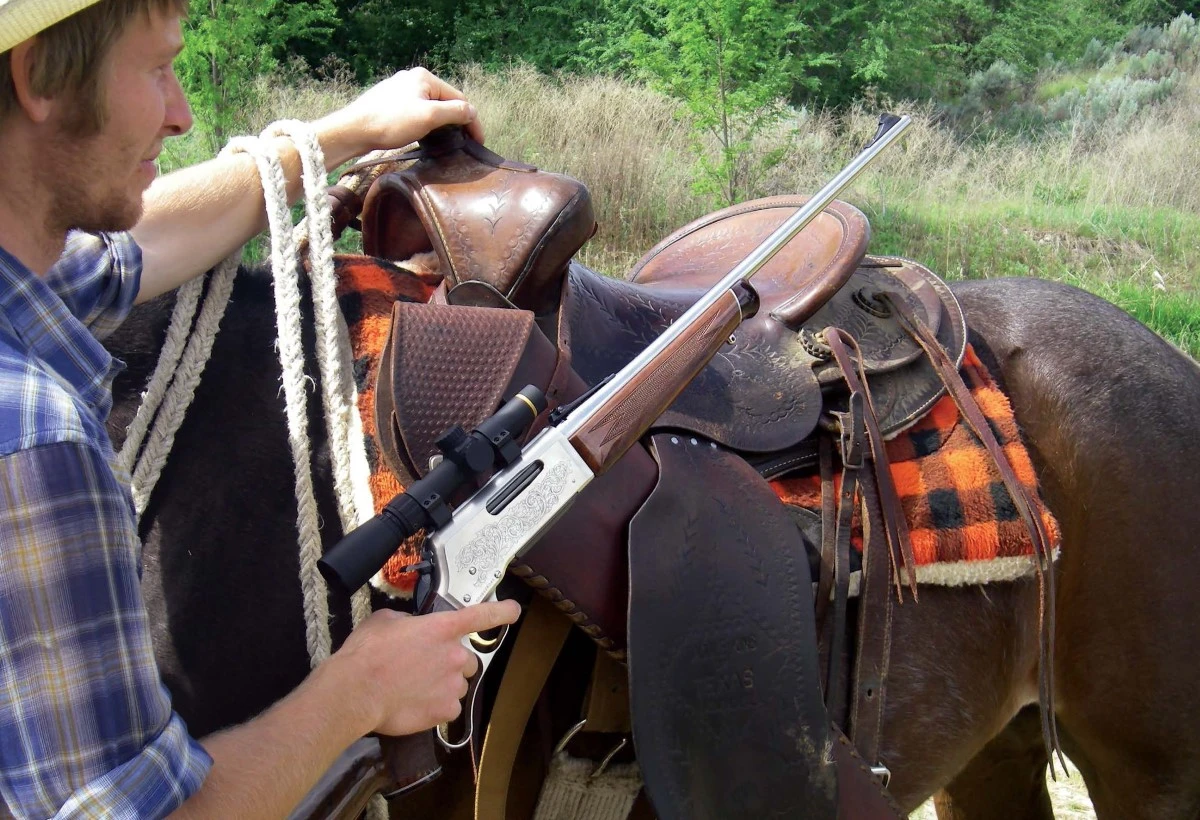 The Browning Lever-Action Rifle (BLR) is another exceptional offering from Browning that breaks the mold of traditional lever-action rifles. One of the major innovations of the BLR is its fully detachable magazine. The BLR was one of the earliest Browning rifles to adopt this feature, marking a significant departure from the traditional tubular magazine design. This change addressed some of the limitations of lever rifles, which often struggled with safely accepting cartridges loaded with spitzer projectiles due to the pointed bullet tip resting against the primer of the cartridge ahead in a tubular magazine – a situation that could potentially lead to chain firing.
The Browning BLR also features a rack and pinion system, giving it a short lever throw. This design makes cycling faster and smoother, giving shooters the advantage of speed.
Also, the Browning BLR is an exceptionally lightweight rifle, which makes it a great choice for hunters. Compared to other popular lever-action rifles, such as the Savage 99C in .308 Win weighing 15 pounds and even the Henry Long Ranger in .308 Win weighing 7 pounds, the BLR weighs 6.8 pounds. Note, however, that a BLR in larger calibers can have a substantial recoil because of the light weight.
This rifle is available in various calibers, including .223 Remington, .243 Winchester, .308 Winchester, .270 Winchester, and .30-06 Springfield. With such power, the BLR is a perfect choice for hunting larger game.
🟢 Excellent quality rifle with a super fast and slick action
🟢 Available in various calibers
🟢 Lightweight and carryable
🟢 Magazine-fed
🟢 Left-handed friendly
🔴 A bit pricey
🔴 Can have a noticeable recoil, especially in larger calibers
Browning BAR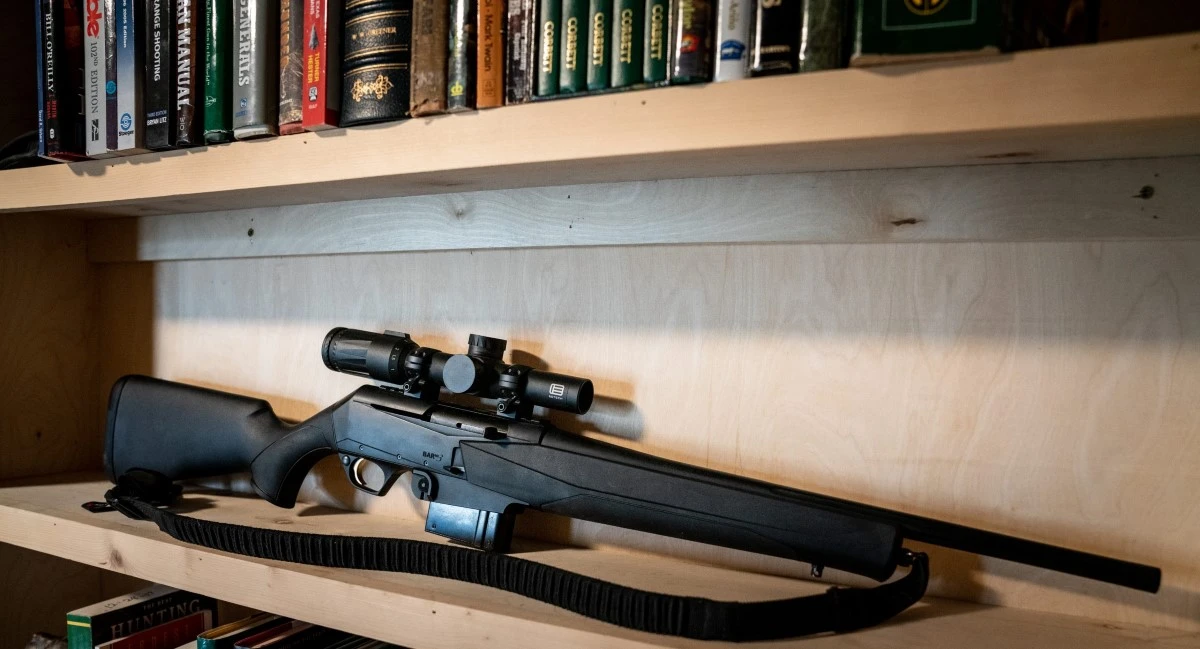 The Browning Automatic Rifle (BAR) stands out in the world of semi-automatic rifles thanks to its unique action. Its short-stroke gas piston system significantly contributes to its reputation as one of the lightest-recoiling rifles available. When chambered in a recoiling round like the .308 Winchester, the BAR's action operates so smoothly that shooters can often see their bullet's impact through the scope. This ability to maintain sight picture through the shot can greatly improve accuracy, especially when tracking moving targets.
Further contributing to the BAR's manageable recoil is its well-fitted and practical buttstock, which helps absorb some of the recoil energy.
Users of the Browning BAR MK3 also praise the accuracy of this semi-auto rifle, which, however, can be maintained only if you don't forget to clean it regularly.
🟢 Soft action and excellent shooting
🟢 Versatile hunting rifle that can be used for deer-sized game
🟢 Light recoiling
🔴 Price
🔴 May require more frequent cleaning
Browning BAR MK3
Caliber: .300 Win Mag
Capacity: 3 rounds
Barrel Length: 24″
Weight: 7.8 lbs
Browning BAR MK3 Stalker
Caliber: 7mm Win Mag
Capacity: 3 rounds
Barrel Length: 24″
Weight: 7.8 lbs
Browning Shotguns
Browning A5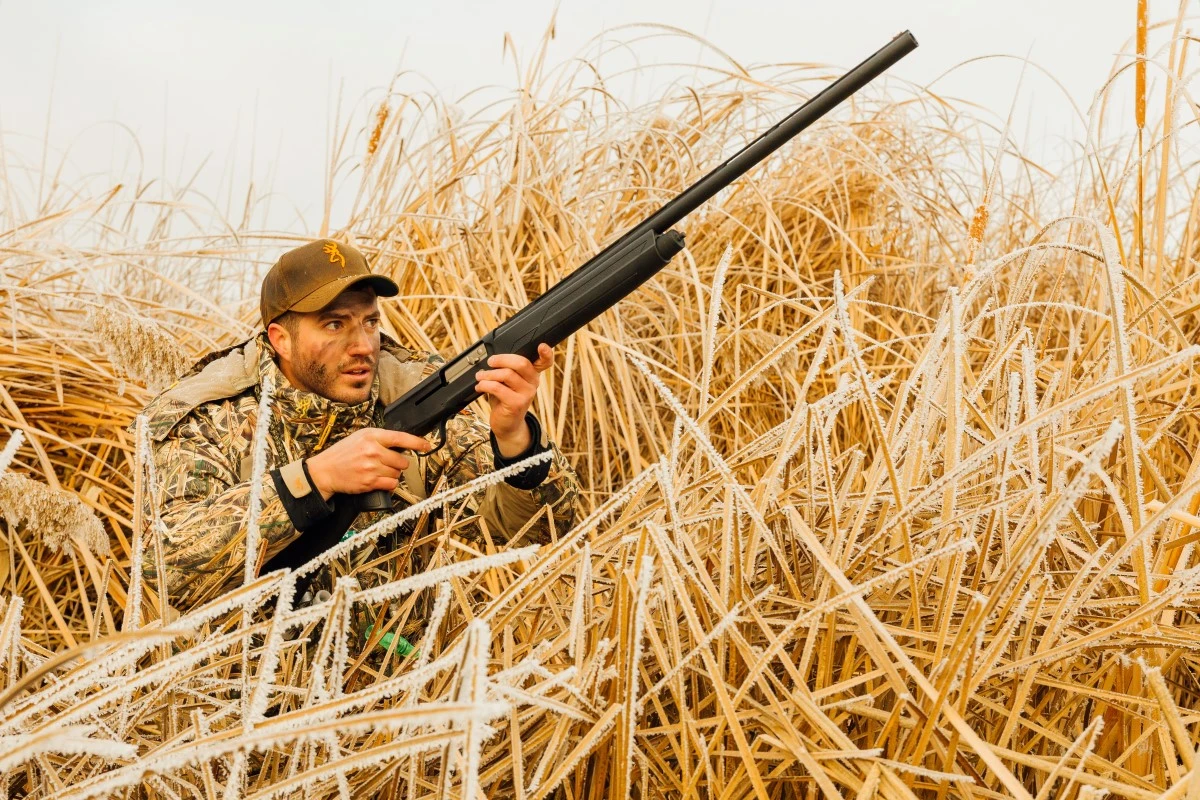 The Browning A5 may conjure images of your grandpa's old shotgun due to its iconic humpback-shaped receiver but don't be fooled. This semi-automatic shotgun shares only its legendary silhouette with the classic Auto-5, a revolutionary shotgun by John M. Browning introduced in 1914. The modern A5 is engineered to be the most reliable, fastest cycling, top-performing, and softest shooting recoil-operated autoloader on the market. 
So, the A5 stands out from the crowd of other Browning firearms with its unique humpback receiver profile. While this unique design may require some getting used to, it's not without its advantages. The humpback design extends the sight plane, making it easier to acquire targets quickly and accurately. The aesthetics of a humpback receiver may not be for everybody, though. By the way, the receiver of the A5 is drilled and tapped, adding to its versatility by allowing you to mount a variety of accessories. 
At the heart of the A5's speed and reliability lies the recoil-operated Kinematic Drive System. This system is as simple as it is efficient, harnessing the energy of motion to cycle a wide variety of factory ammunition loads. It operates seamlessly under all weather conditions, ensuring consistent performance whenever and wherever you shoot.
The A5 also features the Invector-DS choke tube system and the Inflex II recoil pad. The Invector-DS system offers consistent shot patterns and reduces muzzle flip. One of the key benefits of it is its proprietary differential banded gas seal. This seal compresses against the barrel wall, keeping the choke tube threads clean. This not only helps to maintain the overall performance and reliability of the shotgun but also makes the installation and removal of the choke tubes easier than other muzzle thread systems.
The Inflex II Technology recoil pad is designed to divert recoil down and away from your cheek. Pair this with a comfortable grip, and you're looking at a shotgun that's a joy to shoot all day long.
The overall balance of the A5 is commendable. Despite being an inertia gun with fewer components up front, Browning has done a good job balancing it out so that it doesn't feel too light.
While the Browning A5 12-gauge version is the most popular due to its versatility, the model is also available in 16-gauge to provide a more lightweight and compact shotgun that can still deliver a dense shot pattern.
🟢 Durable and reliable
🟢 Classic design that has stood the test of time
🟢 Controllable recoil
🟢 Humpback style receiver – can make mounting up a bit awkward but helps with recoil and sighting in
🟢 Versatile and can be used for hunting and clay-busting
🔴 May require extra care to oil and maintain the old metal parts
🔴 Price can be high
Browning A5
Gauge: 12ga
Capacity: 4 rounds
Barrel Length: 28″
Weight: 7.5 lbs
Browning A5 Wicked Wing
Gauge: 16ga
Capacity: 4 rounds
Barrel Length: 28″
Weight: 6.2 lbs
Browning Citori 725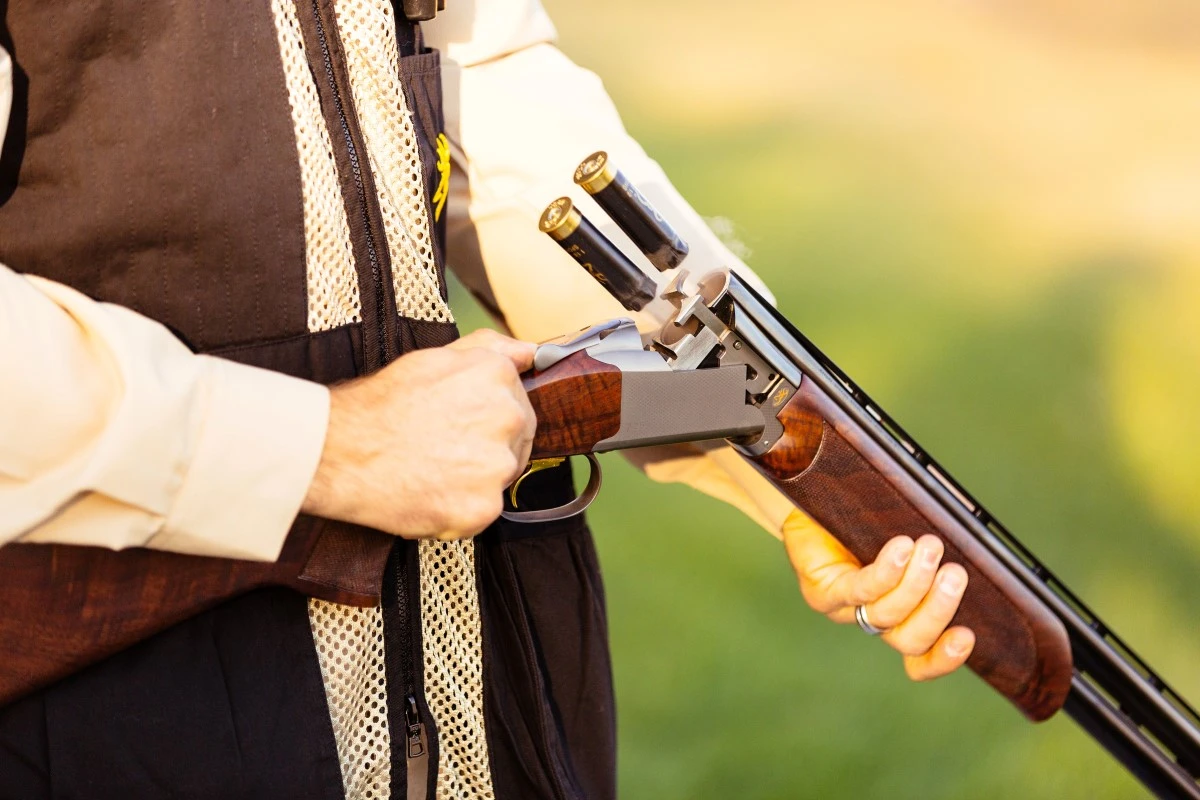 While Browning has introduced numerous versions of the Citori since its debut in the 1970s as the successor to the iconic Superposed over-and-under, the Citori 725 stands out as a legitimately new and refined version of this classic shotgun. It's sleeker than its predecessor, the Citori 625, aligning with the trend toward low-profile over-and-under actions. The designers were able to shave about 5/32 inches off the receiver's height, resulting in a more slender look that belies its robust strength.
This reduction was achieved by removing metal from both the top and bottom of the receiver, partially accomplished by narrowing the hinge pin's diameter. Despite the reduction, there's no compromise on the action's strength, making the 725 as durable as it is elegant.
Browning also incorporated mechanical triggers into the Browning Citori 725 line. This feature ensures that the second trigger can be activated even if the first barrel doesn't fire, enabling a quick follow-up shot. The quality of the trigger pull is remarkable as well, with a consistent break at slightly over 3 pounds. Plus, the trigger is adjustable, allowing the shooter to set the trigger shoe in one of the three positions,
One notable feature on the 725 Sporting – probably the most popular shotgun in the Citori 725 series – is the ported barrels. But while some shooters appreciate this addition for a slight reduction of muzzle flip, it's worth noting that porting can increase noise levels. Generally, porting and an added weight make the Browning 725 Sporting a very soft, speed-shooting shotgun.
The rest of the gun maintains this high standard of excellence. The action locks up tightly with a smooth closing motion; the safety/barrel selector switch on the tang is easy to manipulate, snapping positively from one position to another; the wood-to-metal fit is excellent throughout; and the ejectors perform flawlessly.
🟢 Sleek and attractive with a steel receiver and nice engraving
🟢 Low-profile action
🟢 Great balance
🟢 Mechanical triggers are crisp and consistent
🟢 Adjustable trigger
🟢 The Browning Citori 725 Sporting is a great gun for competition shooting thanks to added weight and ported barrels.
🔴 Price
🔴 Ported barrels on the Citori 725 Sporting increase noise
Browning Citori 725 Sporting
Gauge: 12ga
Capacity: 2 rounds
Barrel Length: 30″
Weight: 8 lbs
Browning Citori 725 Trap
Gauge: 12ga
Capacity: 2 rounds
Barrel Length: 32″
Weight: 7 lbs
Browning .22 Pistol: Buck Mark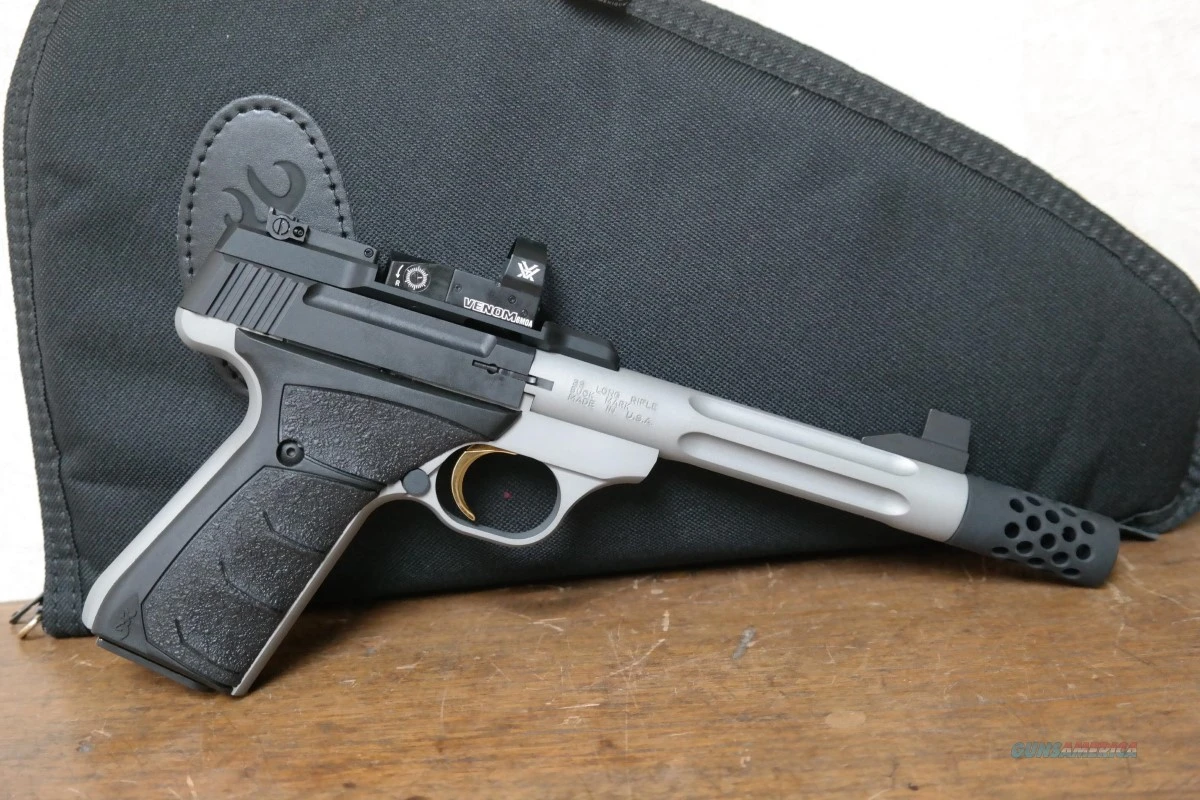 We can confidently say that the Browning Buck Mark is a must-have for any fan of Browning firearms. First of all, it's a great gun to introduce the youth to shooting. The charm of the Buck Mark lies in its design. It's not intimidating but still maintains an impressive appearance. Plus, it gives zero recoil. This, coupled with the sheer joy of shooting, can quickly turn anyone into a gun enthusiast.
Also, the Browning Buck Mark, with its purposeful design, stands out as a preferred choice for competition shooting. Typically, .22 pistols in this category sport a longer barrel, as it contributes significantly to enhancing the accuracy of the firearm through increasing bullet velocity. That's why BuckMarks, along with the Ruger Mark series, are often seen in the hands of competitors. Plus, it's impressively lightweight and maneuverable and has a decent out-of-the-box trigger.
The Buck Mark sports a single-action trigger that is crisp and responsive, perfect for those who demand exacting performance from their firearm. Additionally, the Buck Mark's heavy barrel design helps to maintain stability when shooting.
And let's not forget about the variety. The Buck Mark comes in numerous models, each with its own unique features and aesthetics.
🟢 Accurate and reliable
🟢 Good trigger
🟢 Well-balanced and comfortable grip
🟢 Good weight that allows for accurate and fast shooting
🟢 Feature-rich
🟢 Aesthetically pleasing
🔴 Hard to take down
Also, read Browning Buck Mark Practical Review
Browning Buck Mark Camper UFX
Caliber: .22 LR
Capacity: 10 rounds
Barrel Length: 5.5″
Weight: 34 oz
Browning Buck Mark Plus Vision UFX
Caliber: .22 LR
Capacity: 10 rounds
Barrel Length: 5.875″
Weight: 27 oz
FAQ
Which Browning rifle is the most accurate?
The Browning X-Bolt Long Range is known for its exceptional accuracy. Its design and features, including a free-floating barrel and adjustable trigger, contribute to its reputation as one of the most accurate rifles in the Browning lineup.
Why do Browning shotguns cost so much?
Browning shotguns are often higher in price due to their superior craftsmanship, innovative design, and high-quality materials. Each shotgun undergoes rigorous testing and quality control to ensure it meets Browning's stringent standards of performance and reliability.
What is the best Browning shotgun for hunting?
While the choice of a shotgun greatly depends on the type of hunting you're planning, the Browning BPS Field Composite is often hailed as an excellent choice for a variety of hunting scenarios due to its versatility, durability, and reliability.
Who makes Browning guns now?
Browning firearms are currently produced by the Browning Arms Company, which is owned by the Belgian conglomerate, FN Herstal. Browning firearms are made in several countries, including the United States, Belgium, Portugal, and Japan, depending on the specific model and design.
Source link: https://blog.gritrsports.com/best-browning-firearms-guide/ by Timothy Chandler at blog.gritrsports.com