Last Updated on
In the world of archery hunting, finding the perfect bow sight can be a daunting task. But don't you worry because we're about to introduce you to some of the best bow sights for 2023 that could be the game-changer you've been searching for. Let's get started!
Quick List of the Best Bow Sights for 2023
Best Lightweight Sight: Black Gold Mountain Lite Dual Trac
Best Single-Pin: HHA Tetra RYZ
Best Rangefinding Sight: Garmin Xero A1i Pro
Best Multiple-Pin: Spot-Hogg Fast Eddie Triple Stack PM
Best Budget: Redline RL4
Black Gold Mountain Lite Dual Trac
Pin configuration: Stacked-pin design, 2 vertical pins with the lower pin being micro-adjustable
Pin size: .010″ or 0.19″
Housing size: 1.75″
Weight: 8.7 oz
Looking for the best single-pin bow sight? Meet the Black Gold Mountain Lite Dual Trac, a unique blend of precision, versatility, and lightweight design that sets it apart.
Just like its predecessor, the Black Gold Dual Trac, the Mountain Lite Dual Trac is a single-pin sight. What sets this bow sight apart is the inclusion of a second pin beneath the main one. Unlike many other sights with a second pin, the second pin on the Mountain Lite Dual Trac isn't fixed. Instead, it can be individually micro-adjusted up or down to a distance that suits the archer. This design trick has two benefits – it combines the visibility of a traditional single-pin bow sight with the precision of a multi-pin sight. Both pins are skinny, .019 inches, and end in tiny pinheads – green and red. This design allows for less target blackout, thus enhancing your accuracy on the field.
Weighing just 8.7 ounces, the Mountain Lite Dual Trac is more compact and very lightweight compared to the 9.4-ounce Black Gold Dual Trac. This allows you to shave a touch of weight off your mountain hunting pack and improve overall handling.
But the Black Gold Mountain Lite Dual Trac bow sight is not just about precision and lightweight design. It also comes with a host of innovative features that make it stand out. One such feature is the high-performance PhotoChromatic shell that adapts pin brightness to all light conditions for perfect clarity.
One of the most unique features of the Mountain Lite Dual Trac is the Dial of Death. This feature lets you instantly dial to pre-determined yardages. It's coupled with a dual indicator system needle for short and long-yardage reference, making it easier for users to adjust their shots according to the distance of the target.
HHA Tetra RYZ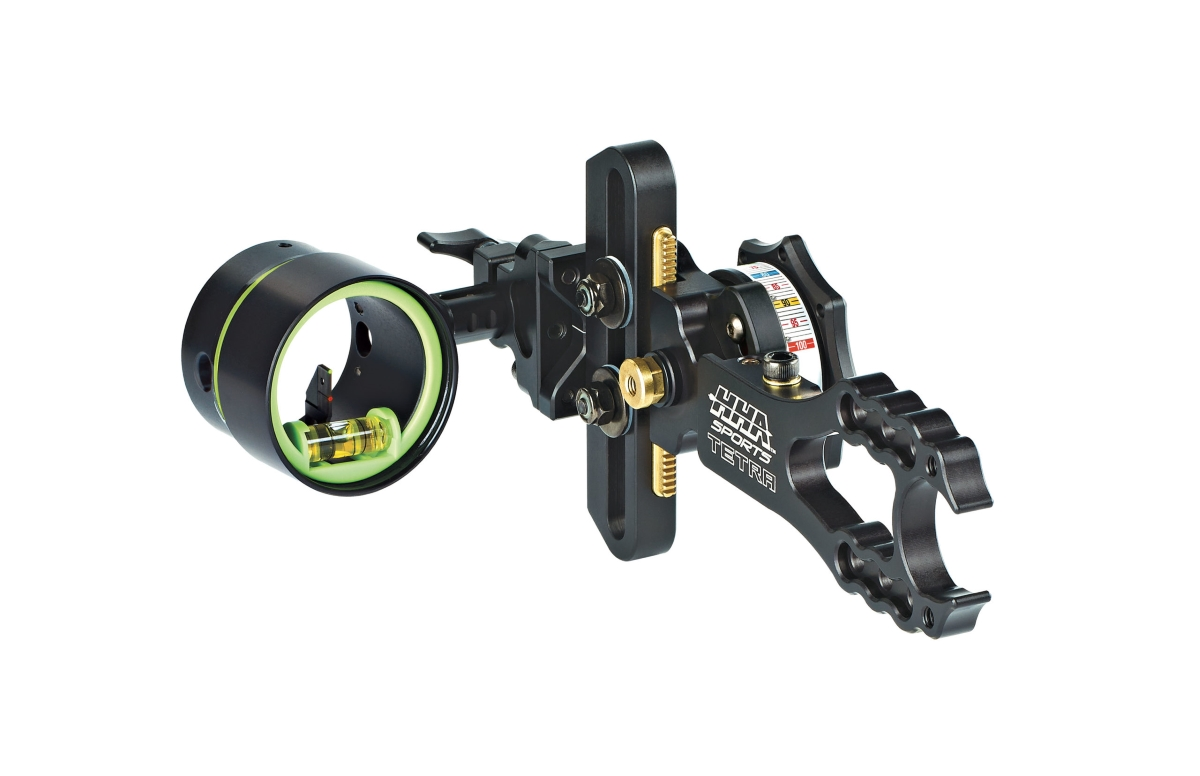 Pin configuration: Stacked-pin design, 2 pins with the higher pin being micro-adjustable
Pin size: .010″ or 0.19″
Housing size: 1.625″
Weight: 13.6 oz
There's no denying that HHA is the undisputed champion when it comes to single-pin sights. Their models, such as the Tetra and Tetra Max, have become synonymous with accurate and successful hunts. For 2023, let's give a hearty welcome to the HHA Tetra RYZ bow sight.
The Tetra RYZ is similar to the Dual Trac sight by Black Gold as it also features the primary and the secondary pin on a single vertical post. This unique feature ensures minimal housing obstructions, offering a clear view of your target.
The primary pin is the one you adjust for different distances. You use the sight tapes (more than 50 are included with the sight) to set the primary pin to the specific yardage of your target. The large wheel drives the scope up and down on a vertical bar, allowing for quick and precise adjustments to your desired shooting distance. What's also great is that there's no wiggle as you zero in on your target, thanks to the precision gears in the wheel mechanism.
The secondary pin is fixed and serves as an additional reference point. This second pin comes in handy when targets move unexpectedly or for shots at intermediate distances. If the target takes a few steps while you're at full draw, you can use the secondary pin to recalibrate your aim without having to adjust the primary pin.
Both pins are available in either red or yellow colors and sizes of .010″ or .019″, providing options to suit different lighting conditions and personal preferences. The Tetra RYZ also comes with a quality fiber optic, which wraps several times around the scope housing, capturing maximum light and ensuring you can see the two aiming dots even in low-light conditions. Plus, the movable rheostat allows you to control the light transmitted by the fiber in bright light.
Like all HHA Tetras, the RYZ allows for leveling the sight on both the second and third axes. Plus, it offers various mounting options, including a fixed frame, a pair of dovetail options, and a Hoyt Picatinny frame.
Garmin Xero A1i Pro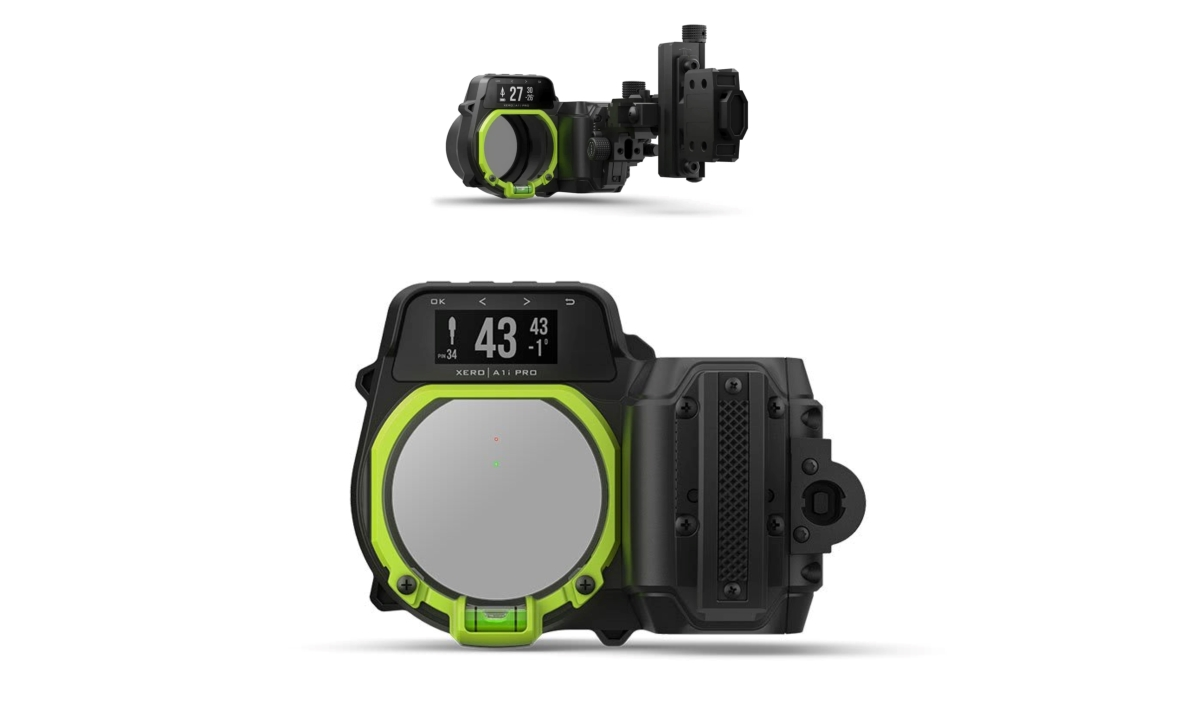 Pin configuration: Rangefinding sight, 1 or multiple pins
Pin size: .007" and larger for red, .009" and larger for green
Range: Game 100 yards, reflective objects 300 yards
Weight: 18.0 oz
The world of compound bow sights has seen numerous advancements, but none quite as advanced as the Garmin Xero A1i Pro bow sight. Its standout feature is its built-in rangefinder, which automatically calculates the distance to the target at the press of a button located conveniently on the front of the bow's grip. This functionality eliminates the need for guesswork, ensuring your aim is spot-on every time.
Housed within the sight, you'll find a glass lens that serves as the display. With the push of a button, an illuminated dot appears, indicating an aiming point in the exact position for the angle-compensated distance to the target. You have the flexibility to choose between red or green pins, and their brightness and diameter can be adjusted to suit your preference. The sight allows micro-adjustments for windage, elevation, and reticle to ensure precision. Plus, there's a handy quick-detach feature that makes traveling with the bow sight effortless.
As for sighting-in, the Garmin Xero A1i Pro Bow Sight offers an auto-calibration feature that simplifies the process. It starts with you sighting in at 20 yards using the sight's mechanical adjustment. Once you've done that, input your bow's speed and arrow diameter into the sight. Then, take a few more shots at 40 yards or farther, and voila, your sight is calibrated from 20 yards to your maximum distance.
Next, most bow sights have levels located at the bottom, requiring you to look down to check your bubble. Not the Xero A1i Pro. The sight displays a level within the sight housing, making it easy to view while maintaining your shooting stance. The sensor is incredibly precise, detecting even minor degrees of cant at farther distances, which can significantly affect arrow impact. However, when shooting at closer distances where minor deviations won't impact your shot, the sensitivity lessens.
Tired of deflections? On this Garmin compound bow sight, you can enable the Flight Apex feature, which displays a dot at the highest point of the arrow's trajectory, helping you avoid obstructions and shoot through tight windows.
Moreover, the Garmin Xero A1i Pro offers the convenience of storing multiple arrow profiles. This feature allows you to maintain various arrow setups for diverse scenarios, eliminating the need to constantly adjust your bow sight for each setup.
Despite its high-tech features, the Garmin Xero A1i Pro is surprisingly user-friendly. The onboard setup menu guides you through the process step by step, meaning you don't need a degree in rocket science to get it working correctly.
Spot-Hogg Fast Eddie Triple Stack PM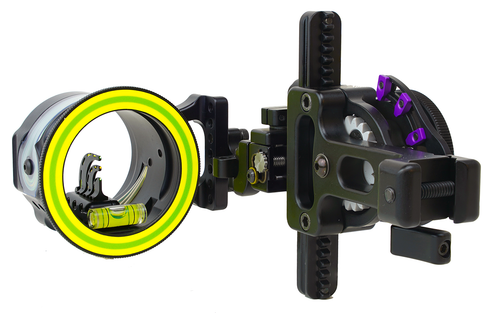 Pin configuration: Stacked-pin design, 3 individually adjustable, vertical pins
Pin size: .010″ or 0.19″
Housing size: Varies
Weight: 19.2 oz
Spot-Hogg has once again revolutionized the game with the introduction of its latest design – the Fast Eddie Triple Stack PM for 2023. With the innovative Pic-Mount (PM) feature, this sight is designed to seamlessly attach to the Picatinny sight rail found on most top-tier compound bows. This results in a significant reduction in overall bow sight weight, creating a more streamlined setup. It also means less noise after your shot, a firmer bond between your bow and sight, and an overall superior shooting experience.
The sight housing features three pins set vertically to reduce clutter and provide multiple aiming points. However, the beauty of the Fast Eddie PM lies in its customizability. Whether you prefer a single pin, double pin, triple stack, or the 3-, 5-, or 7-pin MRT Housings, Spot-Hogg has got you covered. You can also choose your preferred pin sizes, making this sight truly your own.
This Spot-Hogg compound bow sight provides additional windage adjustment with a 6-hole spacer, allowing for quick and easy sight housing repositioning. Elevation adjustments are also a breeze with the yardage wheel and the gang-adjust bar that gives you the flexibility to set the optimal elevation position for your setup.
After you've sighted in at 20 and 60 yards (sight tapes are included), you can enjoy the quietness and minimal vibration.
Durability? Check. The Fast Eddie PM is crafted from sturdy 6061 aluminum and finished with a Type II anodized hard coating, making it resilient even in the harshest hunting conditions.
If the overall design of this Spot-Hogg bow sight suits you, but you need a more traditional mount, check out the Fast Eddie MRT, which, above the rest, also costs slightly less than the PM model.
Redline RL4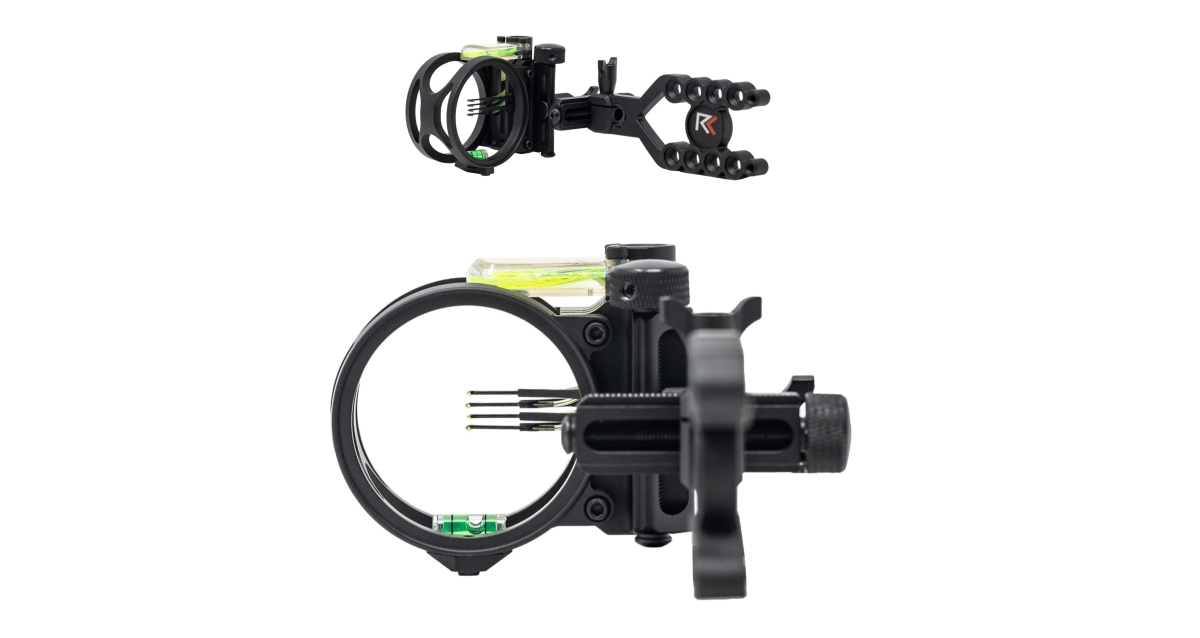 Pin configuration: 2 pins
Pin size: .010″ or 0.19″
Housing size: Varies
Weight: 6.2 oz
Ever thought you could get a cheap bow sight with high-end features? Meet the Redline RL4 – a prime example of quality meeting affordability. This four-pin sight, priced at $75, is packed with features typically found in higher-end compound bow sights.
The Redline RL4 boasts micro-adjust click dials for windage and elevation. But what sets it apart is the tool-free locking and unlocking feature. Can't find your tools in the heat of the hunt? No worries! With hand-tighten knobs, adjustments are a breeze and your settings stay secure.
Crafted from thin wire, .019 pins might seem delicate, but as long as you keep debris out of the scope, these pins are designed to withstand the rigors of hunting. The fiber design is smart. It's encased in a clear plastic mounted atop the scope – the position is beneficial for optimal light gathering, while a plastic case protects the fiber from damage. The fiber supplies each pin with enough light – in normal lighting conditions, pins glow pretty well. With the Redline RL4, you can adjust the first and the second axes. It also features the bubble level.
The sight offers four sets of pre-drilled holes in the sight arm. This means you can attach the sight to the bow at different distances from the riser, giving you the flexibility to fine-tune your sight picture through the peep exactly the way you want it.
FAQ
What are the different types of compound bow sights for hunting?
There are various types of compound bow sights including single-pin sights, multi-pin sights, and stack designs.
How do I adjust a compound bow sight?
Adjusting a compound bow sight involves moving the pins to match your point of aim at specific distances. Most modern sights come with windage and elevation adjustments that allow for fine-tuning.
What are the key features to look for in a compound bow sight?
Key features to consider include the number of pins, pin brightness, adjustability, build quality, and ease of installation. If you hunt in low light conditions, consider a sight with illuminated pins or fiber optic technology.
Is a more expensive compound bow sight always better?
Not necessarily. While higher-priced sights often offer more features and better build quality, it's important to choose a sight that fits your specific needs and budget. A simple, well-made sight can serve you just as well as a high-end model in many situations. Check out cheap quality bow sights from top-tier brands at GRITR Sports.
Source link: https://blog.gritrsports.com/best-bow-sights-for-2023/ by Timothy Chandler at blog.gritrsports.com