Clam ceviche is common in Baja California, where you will often see it marinating in a mix of tomato and lime juice. It's different, but great! What's more, this recipe works with fish or shrimp, too.
You'll see this sort of ceviche all over places like Ensenada, and I've eaten it in La Paz, in Baja Sur as well. Mostly it's made with chocolata clams, which are a signature of Baja. They are a lot like pismo clams in California.
(Here is another kind of Ensenada-style ceviche, served on tostadas.)
Any species of clam will do, however, even the giant horseneck and butter clams of the Pacific Northwest. If you know how to clean a gaper clam, as these species are called collectively, you will get several meaty bits that are perfect for clam ceviche: siphons, the foot and the scallop-like adductor muscles. Just skip the stomachs.
If you're in the East, cherrystones are perfect: Big enough to chop, not so giant that they're like rubber, as big chowder clams are. but you could coarsely grind the feet of chowder clams for this. Again, skip the stomachs on the big clams.
Hate clams? Use fish. This style of ceviche is a little different from what you're used to, so it's a good change of pace from your basic ceviche.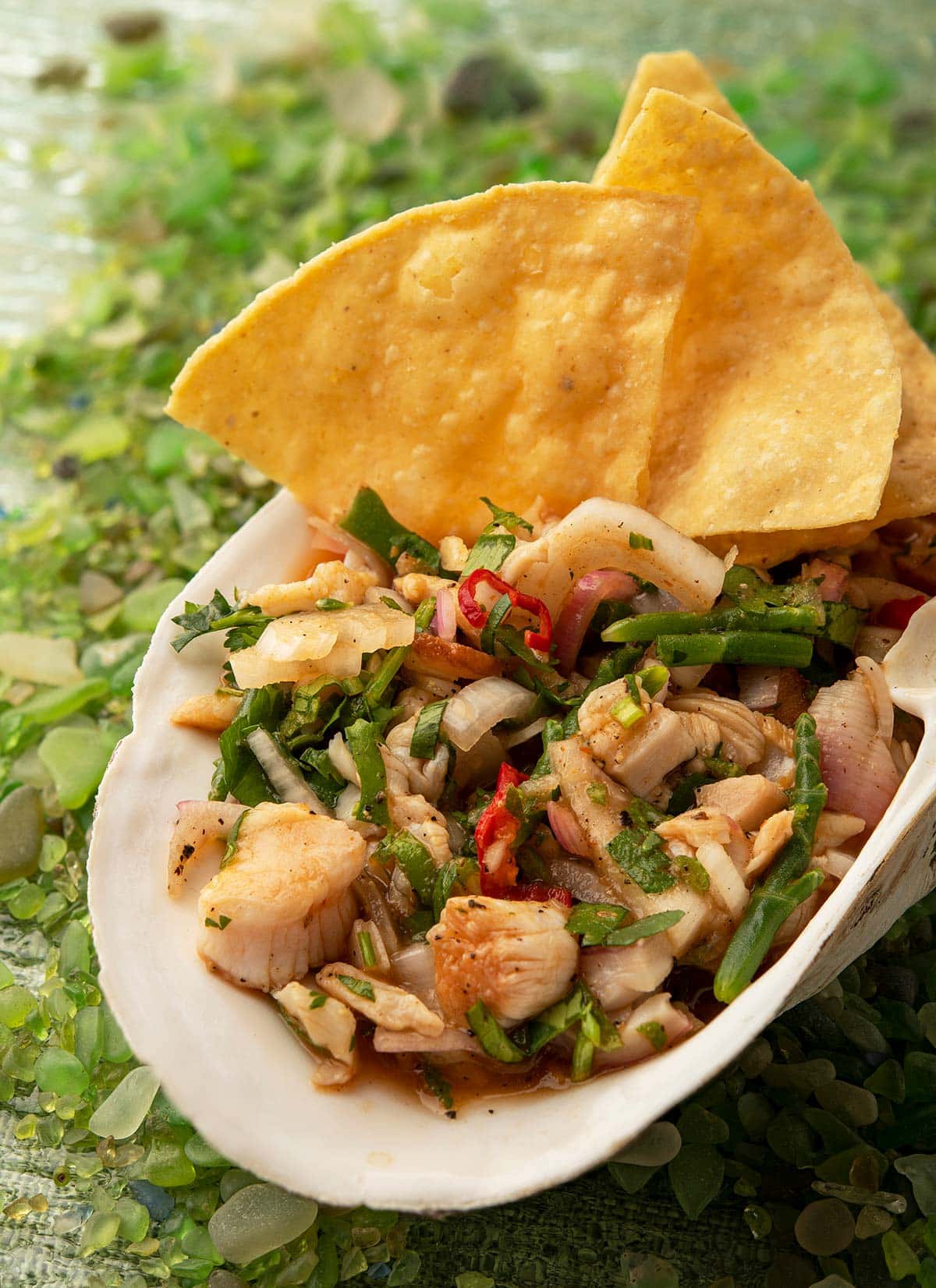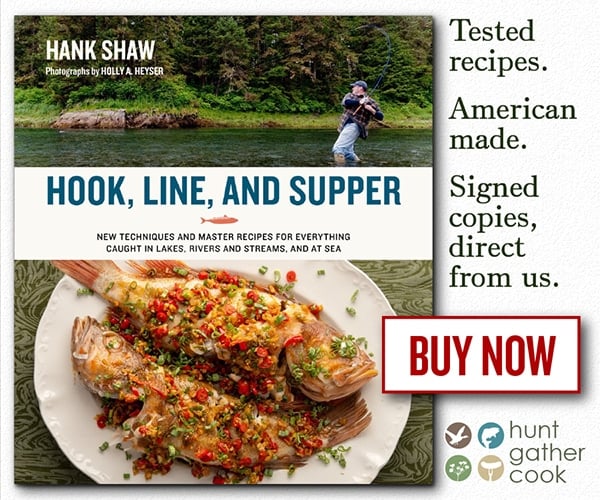 Making Clam Ceviche
My rendition of clam ceviche uses V8 Spicy Hot juice plus lime juice for added depth and flavor. And no, they're not paying me to use it. I just like it better than tomato juice, which is a perfectly fine substitute.
You will want to chop the clams small because they can be overly chewy otherwise, especially if you are using the meaty bits of large clams.
Marinate the clams in the zippy juice along with red onion or shallot and some small, hot chiles. I prefer fresh chiltepin chiles in season, but any small, hot red pepper will do. Thai peppers are great for clam ceviche.
Leave this for 30 minutes to an hour, then add cilantro, maybe a little minced garlic, and something else crunchy. It could be sliced raw asparagus, green beans or whatever.
I used sea beans, which I gathered near where I dug the clams for this ceviche. I also seasoned everything with green salt, which is made from powdered sea beans. These are nice touches that are great if you can, but not required.
Try to eat your clam ceviche the day it's made. You can keep it in the fridge for a day, but it won't be as nice.
If you liked this recipe, please leave a ⭐️⭐️⭐️⭐️⭐️ rating and a comment below; I'd love to hear how everything went. If you're on Instagram, share a picture and tag me at huntgathercook.
Mix together the V8 or tomato juice, lime juice, clam juice, Worcestershire sauce and Maggi, if using. Mix in the minced shallot and clams, chiles and oregano. Let this steep in the fridge for 30 minutes.

Mix in the remaining ingredients and serve with tortilla chips or on tostadas.
Calories: 70kcal | Carbohydrates: 10g | Protein: 3g | Fat: 3g | Saturated Fat: 0.4g | Polyunsaturated Fat: 0.3g | Monounsaturated Fat: 2g | Trans Fat: 0.002g | Cholesterol: 3mg | Sodium: 498mg | Potassium: 184mg | Fiber: 2g | Sugar: 4g | Vitamin A: 103IU | Vitamin C: 7mg | Calcium: 25mg | Iron: 1mg
Nutrition information is automatically calculated, so should only be used as an approximation.
Source link: https://honest-food.net/clam-ceviche-recipe/ by Hank Shaw at honest-food.net