Cumberland sausage is a classic English fresh sausage flavored simply with mace, sage and pepper. Normally pork, you can use other meats, too. I mixed venison with pork.
Making your own Cumberland sausage is easy: This recipe doesn't have a ton of ingredients, no nitrites or starters, it's not smoked, and it's a coarse grind.
Similar to South African boerewors, Cumberland sausage is made and eaten in a coil, not links. You can pan sear the coil, roast it, slice it in chunks, or, my favorite, grill it. The technique is to skewer the coil twice so you can flip the sausage on the grill easily.
Oh, and the name? It's from the part of England where Cumberland sausage comes from. It's the far northwest corner, just under Scotland.
This is a good, basic sausage to learn if you are a beginner. Start by reading my tutorial on how to make sausage, then this recipe will be a snap.
Since Cumberland is a coarsely ground sausage, you will want to start with meat and fat that is mostly free of silverskin and connective tissue, otherwise it can be unpleasantly chewy. If that's the only sort of meat you have on hand, grind it twice.
I prefer a 7 mm die for this sausage, but you could use anything from 5 mm to 9 mm. If you're using a grinder that has limited grinder plates, use the "coarse" one, which is usually 6 mm.
An actual Cumberland sausage will be 100 percent pork, but since I am a hunter, I use 50-50 pork and venison. If you do this, make sure the pork is very fatty. You're looking for about 20 percent fat.
You can, if you want, use grain as a binder; this is common in Britain. Breadcrumbs are a good option, but you can also use flaked rice or even potato starch. I don't use a ton because, unlike British bangers, these sausages rely less on grain as a binder.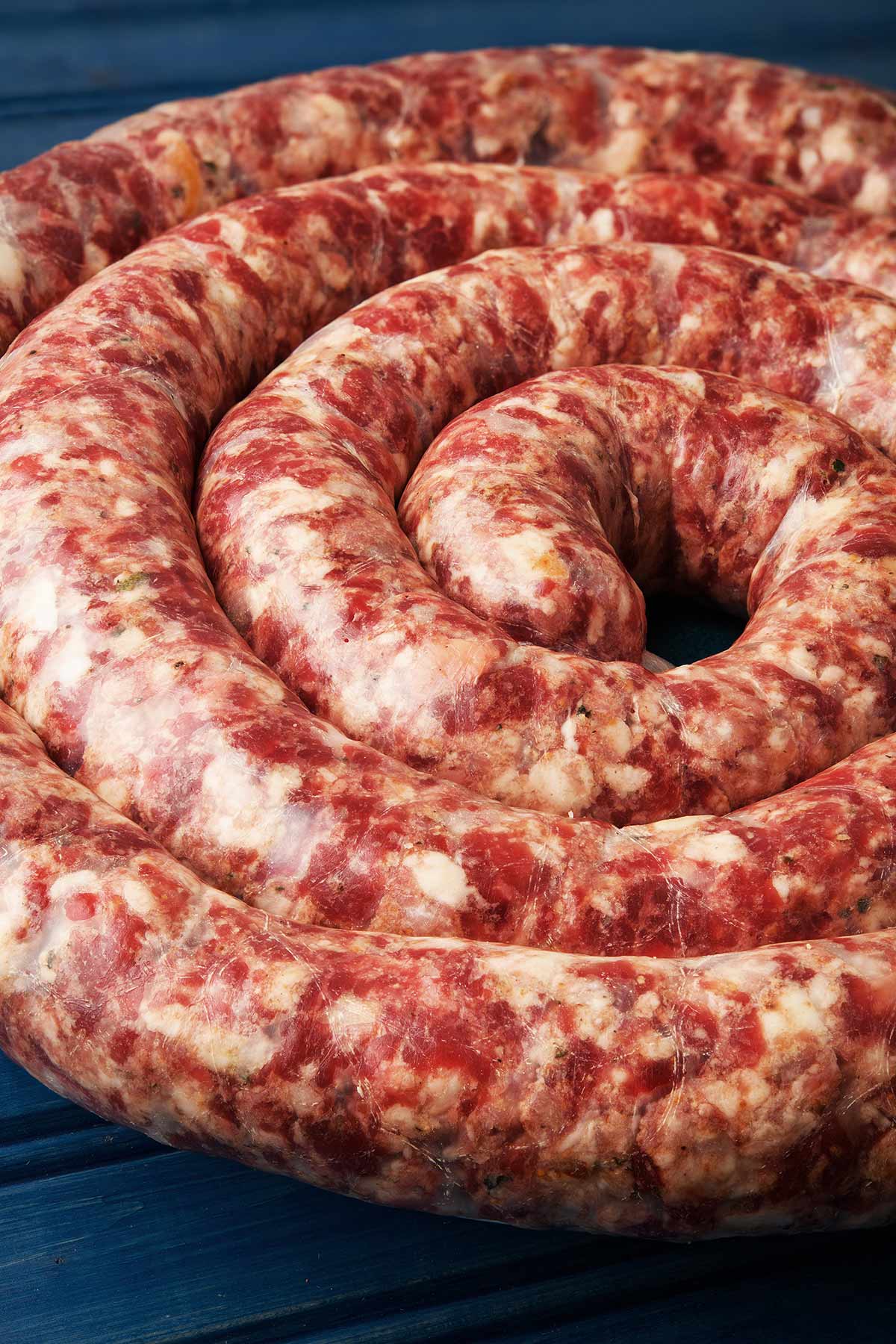 How to Eat Cumberland Sausage
Mostly you'll see people cooking the entire coil of Cumberland sausage, then slicing off portions from there and serving them with gravy and mashed potatoes or other root vegetables.
You can also cut the coil and put the sausage into any sort of mixed roast with vegetables, or grill the sausage, slice off a link and put it in a bun, or hell, just use it as the base for chili or a pasta sauce.
Cumberland is that versatile.
It'll keep a week in the fridge, and it freezes well. I'd cut it into portions before freezing.
If you liked this recipe, please leave a ⭐️⭐️⭐️⭐️⭐️ rating and a comment below; I'd love to hear how everything went. If you're on Instagram, share a picture and tag me at huntgathercook.
Flush the casings with warm water and keep them in a bowl of warm water.

Cut the meat and fat into pieces that will fit into your grinder. If you have time, mix this with the salt and put in a covered container in the fridge overnight. This will help improve the bind. But you can skip this if you are in a hurry.

Mix the meat and fat with all the remaining spices; save the breadcrumbs and water for later. Grind through a coarse die, between 5 mm and 9 mm. If the meat has silverskin and connective tissue, grind twice.

Make sure the mixture is below 40°F, and if it's not, chill until it is. Add the breadcrumbs and ice water and mix well for about 1 to 2 minutes. You'll see the sausage bind to itself and form one cohesive ball. You'll also see little whitish streaks on the sides of container you're mixing in.

Put the meat in a sausage stuffer and carefully fill a coil of casing. You will want to do this slowly because unlike links, coils are harder to manipulate after stuffing to remove all the air pockets — so you want to minimize those air pockets in the first place.

Let the sausage sit in the fridge for at least 1 hour before cooking, to give the breadcrumbs a chance to absorb moisture, which will help with the finished texture.
If you want to use game here, split it 50-50 with very fatty pork shoulder, or go 80-20 with pure pork fatback or belly. Traditional Cumberland sausage is pork, however. 
Calories: 208kcal | Carbohydrates: 5g | Protein: 33g | Fat: 5g | Saturated Fat: 2g | Polyunsaturated Fat: 1g | Monounsaturated Fat: 2g | Trans Fat: 0.02g | Cholesterol: 85mg | Sodium: 926mg | Potassium: 552mg | Fiber: 0.4g | Sugar: 0.4g | Vitamin A: 1IU | Vitamin C: 0.03mg | Calcium: 26mg | Iron: 2mg
Nutrition information is automatically calculated, so should only be used as an approximation.
Source link: https://honest-food.net/cumberland-sausage-recipe/ by Hank Shaw at honest-food.net